Check Your Watch, It's Tebow Time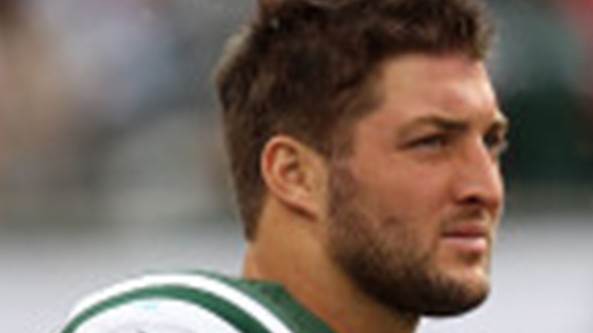 Here we are again. Another season, another struggling offense, and another round of critics that say it can't be done. It's Tebow Time!
Barring a complete collapse, the New York Jets have not showed any signs that they will give up on Mark Sanchez as their starter. However, if they plan on making the playoffs, head coach Rex Ryan must get Tebow involved.
Conventional football wisdom states that, "A team that has two quarterbacks has none," but this situation isn't conventional.
The New York Jets rank among lower third of the league in both passing and rushing. Their typically formidable rushing attack has suffered this season due in part to the struggles in the passing game. If used creatively, Tebow would give the Jets a dynamic that Sanchez doesn't.
The coaching staff has been disappointed with ineffectiveness of Tebow in the wildcat formation, but the Jets lack of success should be heavily attributed to their lack of imagination. If Tebow is handcuffed and not allowed to pass, opposing defenses will continue to stack the line and decrease his ability to make an impact with his legs.
Tebow and Sanchez complement each other nicely and could easily co-exist in a dual quarterback system if the Jets were willing to give it a shot.
If the Jets had no intention of using Tebow, why trade for him? I don't buy that Tebow's primary function in New York is to push Sanchez.  If Sanchez needs to have that much pressure put on him in order to perform on a consistent basis, then he won't be in the NFL for much longer.
Another theory for completing the trade is that the Jets are desperate to keep their place in the New York headlines. The New York Giants, winning two of the last four superbowls, have stolen the spotlight from the Jets. This one is more believable, but whether or not it is true, the Tebow move made sense since the team's rushing game took a step back in 2011. Tebow was supposed to come in and provide a spark within the red zone and on short yardage situations. There is plenty of time to adjust, but his impact will not be felt from the bench.
When the Florida Gators kicked off the Urban Meyer era, there were many doubters who said that his spread offense was far too gimmicky for the speed of the SEC. In year one, they were correct and Urban Meyer had to adapt his wide-open attack to a quarterback with average mobility. Enter Tebow and Percy Harvin in year two — Meyer's offense took off.
Tebow can run a spread offense in the NFL. The Broncos basically ran a spread last season, right? Yes, but a very mild version. Tebow was extremely limited, but Denver scratched the surface of his potential.
If the Jets have any shot at 2012, they will find a way to get the ball to the most unique offensive talent in the league.