Tuition Rate Set in Stone for 2009-10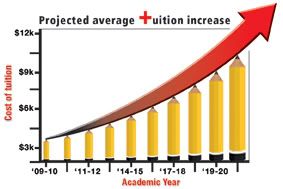 Energized by the state Legislature's May decision to grant the UNF Board of Trustees the power to raise tuition up to 15 percent for the 2009-2010 school year, the board summoned an emergency conference call May 22 to finalize the budget ratifications.
UNF elected for the full 7percent climb, hiking undergraduate tuition 15 percent in total. UNF's increase will not be covered by Bright Futures.
The board members gathered around the conference table to go over the facts and conduct a final motion over speakerphone with Tallahassee budget officials.
An 8 percent tuition excess was already set in stone, but on an individual university level, each institution had the power to choose how much out of an additional 7 percent tuition increase they were going to utilize.
Additionally, every state university except Florida A&M is highly considering implementing an additional 5 percent "tech" fee that would be earmarked for technical improvements around campus.
Each individual percentage included in the 7 percent tuition differential inflates UNF's budget by $171,000, according to the board.
During the meeting, UNF Student Body President John Barnes voiced an imperative question into the phone.
"I know we need an increase, but why the full 7 percent, why not 5 percent, or 6 percent?"
Barnes said.
UNF President John Delaney assured Barnes that the funds would primarily be pumped into hiring roughly 30 new visiting professors.
These visitors have short-term, year-to-year contracts with the university and cover many class
sections.
"If we don't have the visitors' budget, we can't accommodate enrollment,"
Delaney said.
Freshmen enrollment is estimated to rise by a few dozen students for fall 2009, according to
board members.
"More visiting professors mean more class sections, more class sections mean more students can get the classes they need to graduate on time," Delaney said.
Each visiting professor on average maintains eight class sections per year. If enough is left over after supplementing the visitors' budget, the remains could be moved to paid faculty salaries, Delaney said.
E-mail Kim Nelson at
[email protected].