Which team will show up against JU?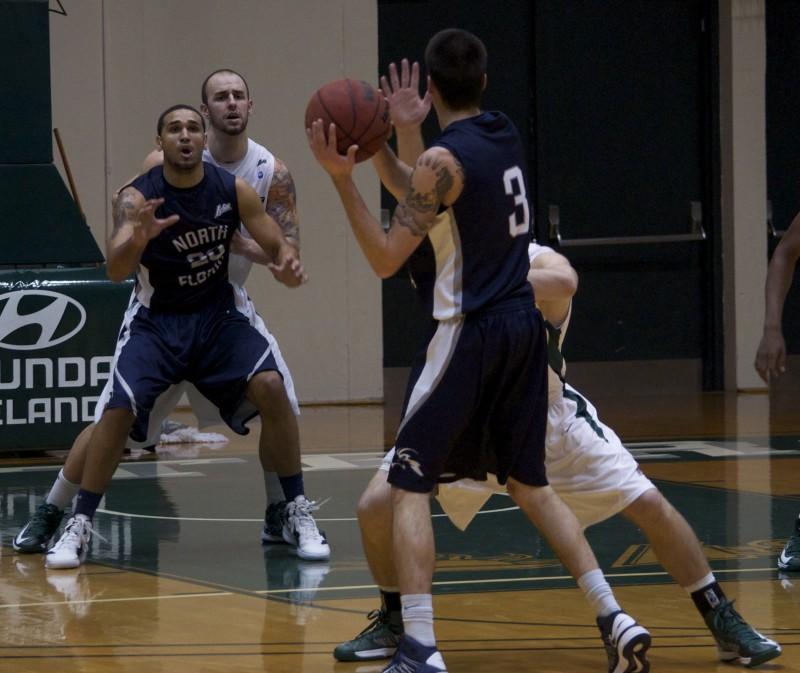 The last two games played by the UNF men's basketball team represented everything that has gone right — and wrong — this season. Considering the game against JU is on the horizon, will UNF arrive as Dr. Jekyll or Mr. Hyde?
During the Jan. 10 game against the Mercer Bears, UNF was torn apart and lost with a score of 66-47. UNF was unable to generate any offense against Mercer's smothering defense, which held UNF's top two scorers, senior guard Parker Smith and junior Travis Wallace, to a combined total of 13 points. Smith has averaged over 16 points per game this season, and Wallace has averaged over 15.
UNF is a team that is dependent on their two top scorers, and when those two scorers don't produce, winning becomes a much more difficult task. Senior point guard Will Wilson may be a prolific assist man, but he himself is not a scoring threat. David Jeune is a defensive specialist — enough said. Beau Beech, who has shown flashes of offensive brilliance, is the future of UNF basketball, but isn't ready to carry the entire offense. And I won't even mention the bench.
UNF's head coach Matthew Driscoll said sometimes Smith gets frustrated by opposing defenses and doesn't let the game develop naturally. This results in poor shots, or worse, no shots at all. This was evident in the game against Mercer, as Smith only had four field goal attempts.
On the flip side, UNF can look nearly unstoppable when the offense is clicking.
The better version of their offense was on display Jan. 12 when they dismissed Kennesaw State by a score of 81-72. Smith settled into the rhythm of the game early, and was able to get clean looks behind the arc, connecting on eight 3-point shots, and shooting 10-18 from the field on his way to 32 points. Wallace owned the paint and poured in 26 points of his own.
The team had a similar performance when they scored 90 points in a victory against the first-place Stetson Hatters. Smith scored 33 in that game, and Wallace added 23.
The team goes as Smith goes. In the last four UNF victories, Smith's contributions averaged over 25 points per game. In the last four UNF defeats, Smith's average was 10 points per game.
So the obvious key to victory against JU is to get Smith going.
But how?
The first key is to get stops on the defensive end. Smith is a great spot-up shooter who is most effective in transition. UNF must get turnovers and defensive rebounds in order to get Smith the ball before the JU defense has a chance to get set.
The second key is to establish Wallace down low. When Wallace is hot, he will demand double teams from the JU defense. That will open up opportunities for Smith on the perimeter.
The third key, and perhaps the most important, is Smith himself. He can't let double teams or physical defensive pressure cause him to change the way he plays. Much like he did against Stetson and NKU, he can't force shots or try to be a hero. If the shots aren't there, he will have to trust his teammates.
Aside from Smith and Wallace, the X-factor is freshman Beau Beech. If Beech can score at least 15 points, UNF will beat the fins.
The first leg of the River City Rumble against JU begins Jan. 18 at 7 p.m.