So, what's your story? Student works to better LGBT community at UNF and beyond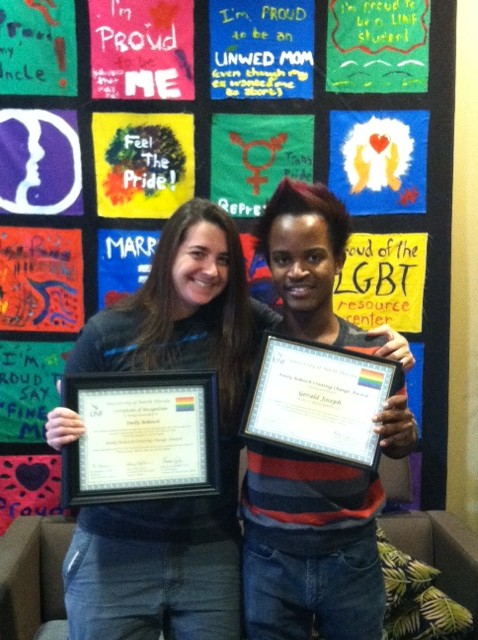 Since coming to UNF as a freshman in 2008, Gerald Joseph has made strides to enhance LGBT awareness and acceptance both on campus and in the surrounding community.
"Personally, I feel the UNF name needs to get out there," said Joseph, now a senior majoring in psychology. "It needs to bring another wave of activism and leadership out there; to create a ripple effect from UNF to the community."
Even as a freshman, Joseph participated in UNF's on campus drag show, which benefits Jacksonville Area Sexual Minority Youth Network (JASMYN), a group that supports the educational success of LGBT students. You may also know Joseph by his stage name: Miss Becky.
He said the drag show his freshmen year was small and unorganized with no student support, so in his sophomore year, he helped advance the show.
"As LGBT students, we're just like you: We value entertainment," Joseph said.
Last year, Joseph was the Pride Club president. This year he is the student assistant at the LGBT Resource Center. His job responsibilities include clerical work, programming, assisting students and educational programing.
BJ Douglass, director of the LGBT Resource Center, said Joseph is a leader who is innovative and great with ideas.
"He's just one-stop shopping for fabulousness," Douglass said. "He's done a lot to work with Student Government and build those relationships."
Recently, Joseph led in convincing Student Government to grant funding to students attending this year's Creating Change Conference being held in Atlanta from Jan. 22-26. This conference awards activism in the LGBT community and includes seminars that enhance activism.
"It's a great way for us as students to learn from leaders about how to bring change and better ourselves and our community," Joseph said.
Joseph is also the first recipient of the Emily Rokosch Creating Change Award that the LGBT Center created as a way to honor those who have helped the center and the school. Rokosch founded the center in 2006 and served as the education coordinator for two years after she graduated. She now works as the director of programs and community relations at JASMYN.
"While [Rokosch is] the embodiment of the center, Gerald is also the embodiment of the center, so it makes sense that he's the first recipient," said Natalie Nguyen, LGBT Resource Center program coordinator.
Joseph said it was an honor to receive the award in light of Rokosch's contributions to UNF, Jacksonville and the LGBT community.
Joseph is originally from Tampa, where he attended a Catholic school.
He said he only became totally comfortable with himself after coming to UNF, where he met several mentors who helped guide him and teach him activism.
"Jacksonville was new culturally. I was out of my element," Joseph said. "It was kind of like a light bulb moment for me where I realized "Gerald, you need to make some changes." Being honest to myself was one change, being honest to my loved ones was another, and stepping up to injustice."
Joseph said the LGBT Center is accepting and allowed him to be comfortable in his own skin and love himself.
"A lot of the individuals in here are like family to me," he said. " I feel very safe here."
Although Joseph plans to become a marketing analyst or a fashion buyer after he graduates, he is 100 percent invested in furthering LGBT equality.
"It takes individuals who are being repressed to change the mindset of people," Joseph said. "Hopefully one day I can return to Florida, marry my partner and live like everyone else. There are still places where I'm treated [like] 50 percent of my heterosexual counterparts."
Douglass said Joseph personifies diversity and can be an especially strong voice for the LGBT community.
"By him going out into classrooms and being out and proud about what it's like to be an African American gay man, he's the voice for so many closeted people," she said.
Email Taylor Nelson at [email protected]
Joseph is spearheading a new event, the Queer Film, Art and Music Festival. This will take place April 2-11.
Emily and Gerald will be formally honored on March 13 at the 7th annual Building Bridges Creating Community event where Joseph has been chosen to be the student speaker.