Ospreys can't fly with Eagles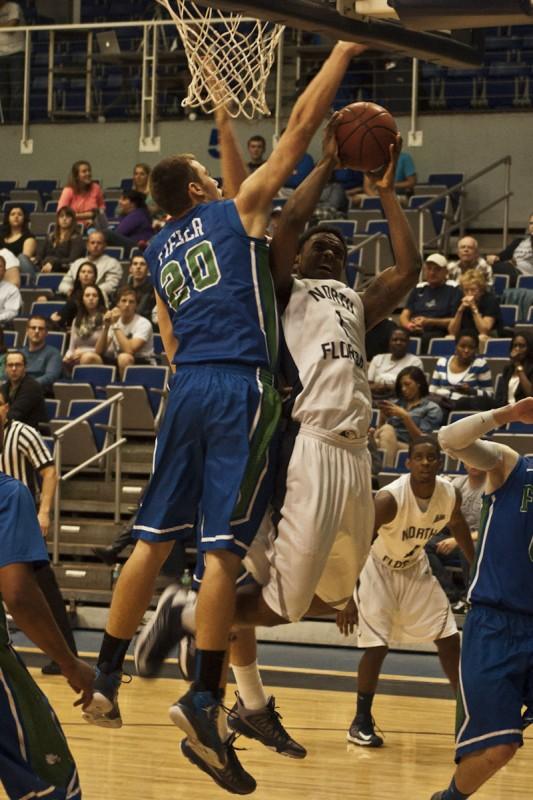 Jacksonville, Fla. — UNF lost its fourth straight game after a 89-75 loss to the Florida Gulf Coast University Eagles. The loss comes at home after the Ospreys returned from a 3-game road trip.
The Ospreys (8-15, A-Sun 3-7) managed to tie the game 40-40 with a buzzer-beating layup from Charles McRoy before the halftime. But could not stop the Eagles' (15-8, A-Sun 6-4) offense in the second half.
FGCU racked up 13 second chance points in the second half and shot wide open threes, hitting 52 percent from downtown. Five eagles scored in double-digits for the game.
"They're the best offensive team in the league," Osprey head coach Matthew Driscoll said of FGCU. "In order to win games in this league, we have to be a defensive team."
The loss marks the second game in a row where the Ospreys gave up 89 points.
Driscoll said that seventy five points is enough to win, but they need be able to stop teams on the defensive end.
Midway through the second half, FGCU went on an 11-2 run, putting the Eagles up by 10 with six minutes to go. From there, the Eagles flew past the Ospreys on nearly every possession, building its largest lead to 16 near the end of the game.
UNF forward Parker Smith finished with a team high 20 points while Will Wilson pulled in 5 steals. The Ospreys were cold from 3-point land, hitting just 22 percent in the second half.
FGCU walk-on guard Sherwood Brown led all scorers with 22 points and finished with a game-high 6 offensive boards. Guard Brett Comer scored 17 points and dished 6 assists.
Although UNF did manage to put in 28 points off the bench, the Ospreys could not manage to stop giving points off of turnovers. FGCU scored 19 points off of 17 Osprey giveaways.
UNF will attempt to bounce back from the FGCU loss and try to keep itself off the bottom of the A-sun standings when it hosts the Stetson Hatters on Sat. Feb. 2 at 4:30.