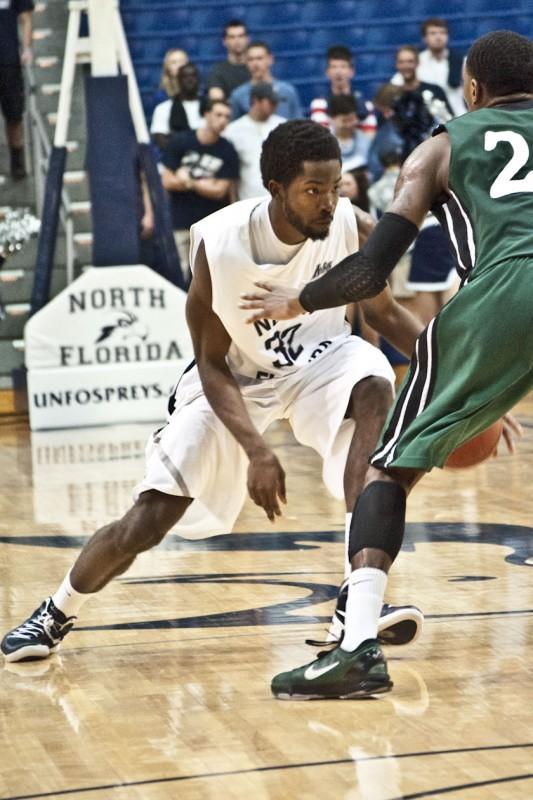 UNF can't make up its mind who it wants to be.
Five days after beating USC Upstate by 24 points, UNF was on the opposite end of a 72-45 loss to Northern Kentucky.
Riding a two-game win streak headed into Thursday's match-up with the Norse of NKU, UNF forgot to pack its momentum when it left Jacksonville.
Costly turnovers and a poor shooting percentage led to the teams's sixth conference road loss of the season.
After trailing by 8 at halftime, UNF let the game slip out of hand to start the second half, letting NKU (10-15, A-Sun 8-9) rattle off a 21-4 run.
UNF (12-18, 7-10 A-Sun) out-rebounded the Norse 31 to 25, but left their pockets open for 7 NKU steals. The Norse capitalized on 14 Osprey turnovers and a 40 point surge from their bench.
Guard Parker Smith broke the record for three point field goals made by an A-Sun player in a season, and then promptly disappeared.
Smith scored one basket on four shots for the Ospreys, scoring just 3 for the game.
Junior forward Charles McRoy continued his recent strong play off the bench with a 13 point, 5 rebound effort. The rising McRoy has shown a glimpse of potential these last three games, scoring an average of 13 ppg and 20 total rebounds.
McRoy was the only Osprey in double figures.
Small forward Beau Beech scored 5 points for UNF. The freshman sported 14 points and 17 points the two games prior to the Thursday's lackluster effort.
Osprey front-man Travis Wallace started the game strong with 4 early points but managed just 8 for the game, while fellow forward David Jeune finished with a game high 7 rebounds.
Northern Kentucky guard Eshaunte Jones was simply on fire.
Jones led all scorers with 30, hitting an exceptional 66 percent shooting from the field. The Nebraska transfer hit 6 of 9 from downtown and kept the Norse lead insurmountable.
Despite having issues on the glass, NKU managed to limit its turnovers to 3 and remained efficient from the field, including 58 percent from three.
"We were trying to force things rather than letting things happen," UNF Head Coach Matt Driscoll said.
With the A-Sun tourney just around the corner, the Ospreys still need something to motivated them going into their last game before March Madness.
"We have to keep everything in perspective and not allow one loss to be two," Driscoll said.
If the season ended today, UNF would be a #8 seed and face the top-seeded Mercer Bears in the first round of the tournament.
The Ospreys finish regular season play in Nashville where they will face Lipscomb (11-16, 6-10 ASun). UNF won its previous match-up with LU, 84-70.