After suffering several delays and spending seven years in developmental hell, Aliens: Colonial Marines has been released to the disappointment of Aliens' fans.According to the game's developer, Gearbox, the story takes place between films Aliens and Alien 3. But that really isn't apparent — there are so many gaping plot holes, it's hard tell if the lead writer of A:CM was even familiar with the Alien canon.
The colonial marines sent to investigate an SOS from the USS Sulaco discover the ship is infested with Xenomorphs; last time we heard, there was only one egg on the ship and it hatched in Alien 3, on another planet. And that egg was just a drone egg, not a queen egg which is what's required to start a new Xenomorph colony.
The marines have never heard of these creatures before, yet once they're aboard the Sulaco, they start referring to them as Xenomorphs.
Then a bunch of mercenaries from everyone's favorite evil corporation, Weyland-Yutani, show up and use the Sulaco's weapons to destroy the marines' ship, the Sephora. Weyland-Yutani's logic in thinking it's a good idea to try and weaponize a species of hyper-intelligent killing machines never did make much sense. If a corporation tried that in real life they'd all end up in straight jackets and in padded rooms before they could utter the word "profit".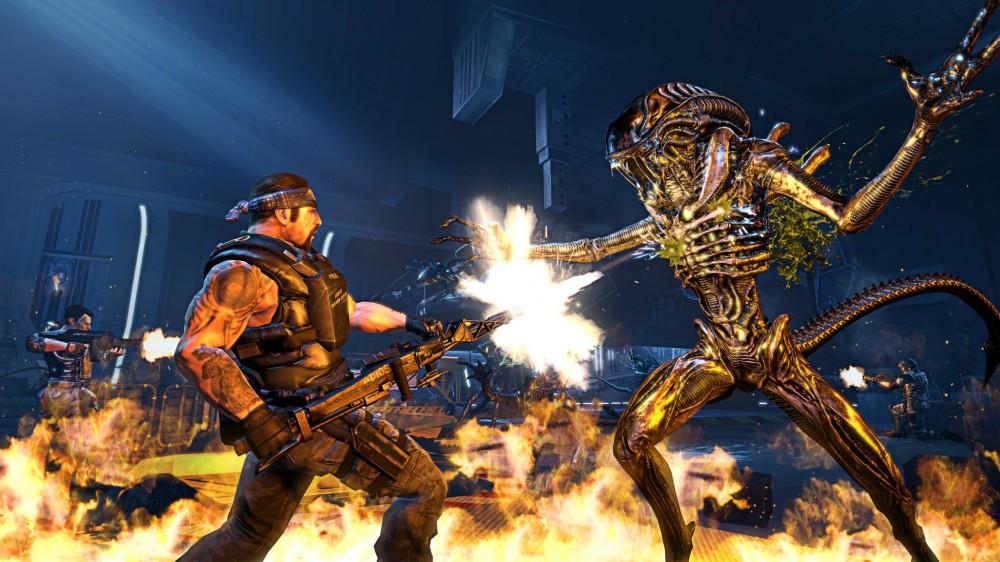 Anyway, the Sulaco gets hit by debris from the Sephora and crashes on planet LV-426. The marines survive the crash and find the colony of Haven's Hope mostly intact and overrun by Xenomorphs, which makes no sense because that place was basically nuked at the end of the movie Aliens. So now the marines must find a ship and get off the planet as quickly as possible, before the Xenomorphs get to them.
These plot flaws wouldn't be such a problem if Gearbox hadn't claimed this game to be canonical to the Alien franchise. But hey, who cares about story if the gameplay's good, right?
However, it's the gameplay that really ruins this experience. There's very little variety besides killing large numbers of Xenomorphs and mercenaries. There's one section where you pilot an exosuit cargo loader and fight a large Xenomorph, but it only required a few whacks over the head before it keeled over and died.
There's a total of six weapons to choose from — only one of which is not from the films; unfortunately there's no point in using them because you're given an overpowered pistol with infinite ammo at the start of the game. Don't even bother using grenades; firecrackers would probably be more effective explosives.
The characters in the game are 1-dimensional, and each is about as interesting as a cardboard box. Often times enemies will stand around looking dazed and confused like they just took a flashbang grenade to the face. The lip-synching is off, and as if all the characters had suffered a bad plastic surgery, their faces barely move when they speak.
A:CM also has a lot of bugs (pardon the pun), such as objects randomly floating in mid-air, characters teleporting ahead, and enemies disappearing the instant they die. The graphics look dull and ugly, and very unpolished overall.
What made Aliens such a great movie was its ability to blend action with horror. Aliens: Colonial Marines fails as both an action and a horror game. Hopefully, one day a developer will look back on the mistakes made and create an Aliens game that fans can truly be proud of.

1 out of 5