UNF men's tennis has talent from all over the world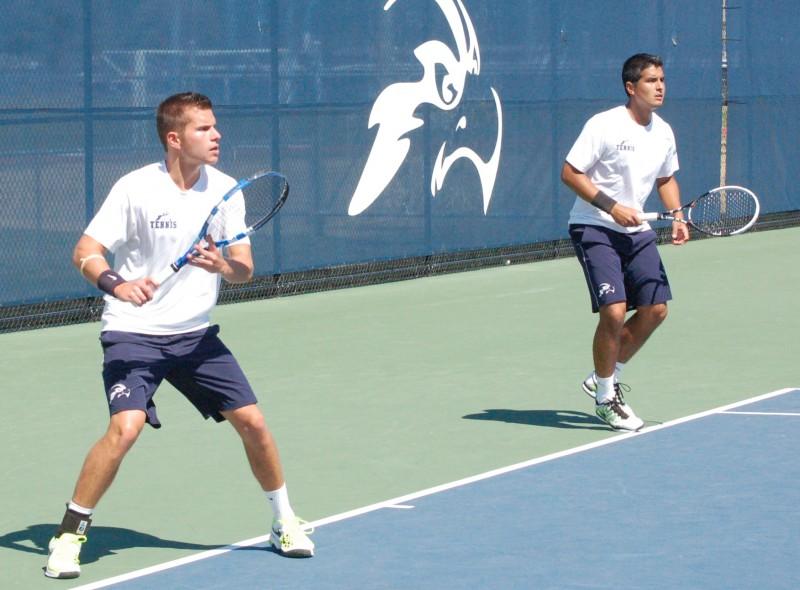 There are nine players on UNF men's tennis team, and all nine are foreign born. The team currently features players from Canada, Brazil, Germany, Peru, Liechtenstein and Hungary.
The diverse group, led by head coach Adam Schaechterle, has been playing well this season — but how has this motley crew of players come to play for UNF?
Florida is one of the top recruiting spots for college tennis with four of the top-10 incoming freshman players, according to recruit rankings, hailing from the Sunshine State. Larger schools like UF and FSU have an easier time getting top recruits in the state, which forces smaller schools, like UNF, to look elsewhere for comparable talent. That's not to say that UF or Florida State's teams aren't lacking foreign players. Nearly half of both rosters feature non-American born players.
Schaechterle made a trip to Europe last year to extend scholarship offers to players in England, Germany and Portugal. He had established contact with 12 potential recruits six months prior to actually meeting the players. Going to see recruits before having a scholarship ready isn't a luxury UNF tennis can afford. Bigger tennis schools like Stanford and Virginia have the money to go see international players compete in tournaments, and are able to better scout talent from a first-hand perspective.
"Other programs have the financial resources to maybe make multiple trips to international destinations," Schaechterle said. "At UNF, we have to be a little bit smarter about how we use our resources."
The trend of international tennis players coming to U.S. universities isn't just beneficial for the schools. It also allows international tennis players the chance to improve and hone their skills instead of going directly into professional play at too young of an age.
"You're attracting a different kind of kid. You're not telling a kid that you have to choose between pro and college tennis," Schaechterle said. "You're telling the kid to wait a couple years, have a wonderful experience, and then go pro. Mature physically, emotionally and within your tennis game, and then you can go pro."
Schaechterle is no stranger to the diversity in men's college tennis. As a tennis star at Northwestern University, Schaechterle roomed with a Peruvian player who invited him to play in red clay tournaments in Peru. The pair even climbed Machu Picchu together.
"I came from the Big 10 where I was an assistant coach, and at the time there were 11 Big 10 schools and nine of them had international players playing No. 1 for their respective team," Schaechterle said. "So I think I was used to there being some international focus in terms of the highest levels of recruiting."
UNF's No. 1 singles player is senior Moritz Buerchner out of Haimhausen, Germany, and his teammate senior Julian Belair, from Quebec, Canada, earned his first A-Sun Men's Tennis Player of the Week honor the last week of March.
Freshmen Mark Hamill and Bernardo Craveiro were Schaechterle's first recruits as head coach at UNF. Both players contacted coach Schaechterle initially, which is common.
Hamill, from Alberta, Canada, began to e-mail college coaches his results and statistics near the end of his high school career. The freshman targeted other schools in New York and the Western U.S, including Idaho State.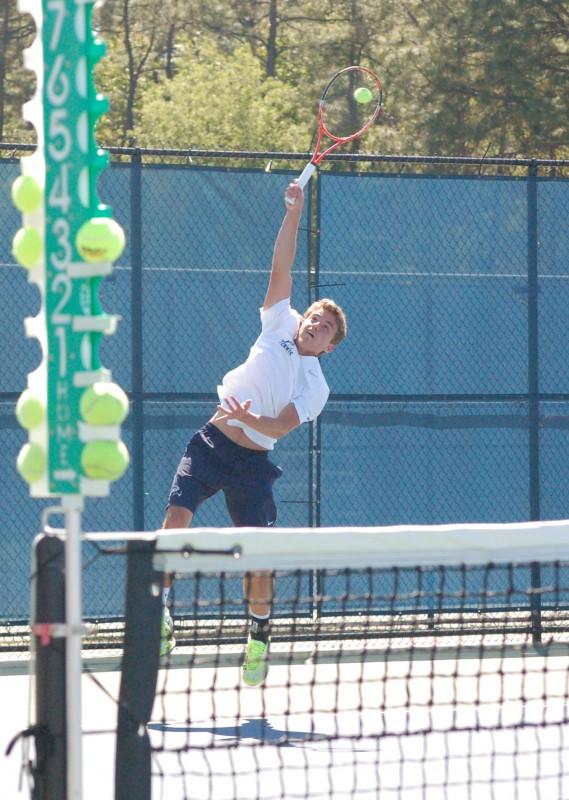 "I chose UNF mostly for the weather and the good tennis program," Hamill said. "I thought Adam [Schaechterle] showed a lot of interest in me. He showed that he cared a lot about my tennis, and that's why I decided to come here."
Craveiro on the other hand, had help contacting schools through an academy program in his hometown of Belo Horizonte, Brazil. The academy helps tennis players get in contact with teams across the U.S. Craveiro was given information about each school that had interest in him, and he was given the option to choose what school he wanted to go to.
"I had an offer from UNF, Embry Riddle, Western Michigan and ECU," Craveiro said. "So, they came to me and said, 'We have these four universities, which one would you rather go to?' I decided to come to UNF."
Despite the diversity of the UNF tennis team, communication between the players isn't affected. They all speak English, and even trash talk during practice to push each other.
"I think we're going to need to show some success like we're doing this year before we can continue to attract the top five/top 10 players in the state," Schaechterle said. "We're not going to abandon recruiting Florida players, but we're also going to take the best guy available, whether he's from Peru, or England, or Germany or Florida."
With all the international flavor of UNF tennis, Schaechterle's primary goal is to recruit in Florida, first and foremost. The team has signed four-star recruit Zachary Goldberg from Gainesville High School in Newberry, Florida, for next season. Schaechterle also made offers to three recruits in Europe to round out the recruiting process this past year.