UNF takes down top-dog despite mistakes, Weeks and Dewees continue hot streak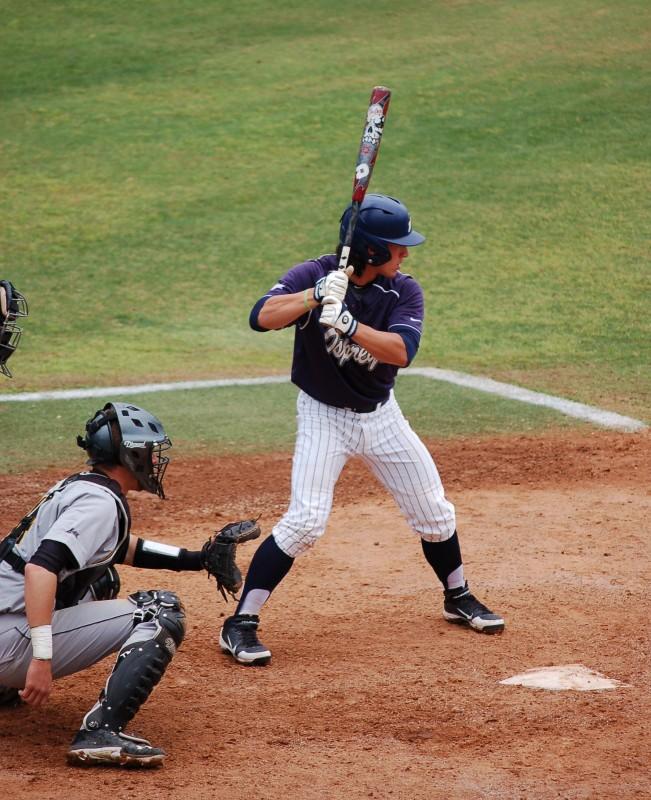 Despite having a total of eight errors in its three-game series, UNF baseball took down the preseason No. 1 A-Sun Conference pick, the Mercer Bears, by winning two out of three games. UNF is now 14-6 for this year.
Mercer, who was ranked No. 8 in College Baseball Daily's April 1 mid-major poll, has only lost one other three-game series, and it was against South Alabama, who was ranked No. 19 in the mid-major poll.
Much to head coach Smoke Laval's satisfaction, strong pitching allowed UNF to get passed Mercer.
Nick Allbritton pitched a solid seven and one third innings in the 10-4 win, April 6. And in the series finale, senior Michael Renner kept his composure and pitched his way to a 3-2 win April 7, despite UNF's five errors in the game.
"[Laval] was saying in the meeting [after the game] he's never been around a team that could make five errors and can still win a game," said sophomore Drew Weeks. "We just believe that we're gonna' win. If you believe, and everybody catches on, then you can't be stopped — you're a force to be reckoned with, like how we were today."
"It's a good sign that you can win a game, even though you had five errors," said junior Tyler Marincov. "It's a good sign for our team — it's a good sign for our offense. It feels really good to get out on a roll in conference play when the last two seasons we've started behind the eight ball."
"It's always fun being the underdog — you never have anything to lose," Weeks said.
UNF sits tied for first in the A-Sun, with No. 24 nationally ranked Florida Gulf Coast, with a 6-3 conference record.
Even though the team has dealt with injuries, players have stepped up to fill the voids. Offensively, Donnie Dewees and Weeks have been the most consistent in the past two weeks.
"I slowed my swing down a lot and I've worked on my mechanics a lot," Weeks said. "I've started seeing pitches a lot better, I've stopped swinging at bad pitches and I haven't been striking out. That always helps, not striking out — you put the ball in play, hopefully they mess up."
Weeks followed up his cycle performance, March 30, by going 6-10 with a triple and a home run in the series. Dewees, who had three triples March 28, went 6-14 in the series, and has a .356 batting average for the season.
Ryan Roberson, who has the second highest batting average on the team with a .367 average, had a 10-pitch at bat in the April 7 game. He said that at bat is what has defined the team's offense this year.
"That's one thing we've worked on as a team, being very patient and waiting for a pitch that you can work on," Roberson said. "You just gotta' keep battling off the bad pitches until you get one you can handle and drive it somewhere."