Men's Soccer Preview: Ranked last in pre-season polls, but reasons to be hopeful
After two dark seasons, men's soccer hopes to climb out of the shadows and into the light of the A-Sun

Head coach Derek Marinatos stalks the sideline during the exhibition match against Georgia Southern.
The hot morning sun beats down on the players during their first 11 v. 11 practice of the pre-season. Head coach Derek Marinatos looks on with hopes of a better season — the team was 4-13 overall and 1-7 in conference last season. With the talent he has acquired from both international transfers and incoming freshmen, there may be a new spark about the team this year.
Players reported last Tuesday for their first team meetings, physicals and player photos as they prepared for the first practice of the fall.
"Granted we're only a few days in but the vibe and feeling from the team is great," Marinatos said.
The team will need to keep that good vibe, as well as their early work ethic, to improve upon last season.
To help improve Marinatos brought in an array of talent. The new international, junior college players and freshmen players started to adjust to college over the summer.
"Some of them got playing experience at the higher levels like NPSL (National Premier Soccer League) and all the freshmen were here for Summer B," Marinatos said. "They took two classes, got acclimated to the climate and did strength and conditioning on a voluntary basis."
Included in that workout was local freshman and Bolles graduate Jay Bolt, who played with the NPSL team Jacksonville United over the summer, and knows the level of play that is required to do well at UNF.
"Playing with older guys, some ex-pros and some college players, it got me experience playing at a high level," Bolt said. "The speed of play was a lot faster. It got me stronger and more fit."
Bolt was named The Florida-Times Union Player of the Year during his senior season at Bolles.
Along with Bolt, goalkeeper Brad Sienkiewicz also spent time with United to keep his game fitness at a high level.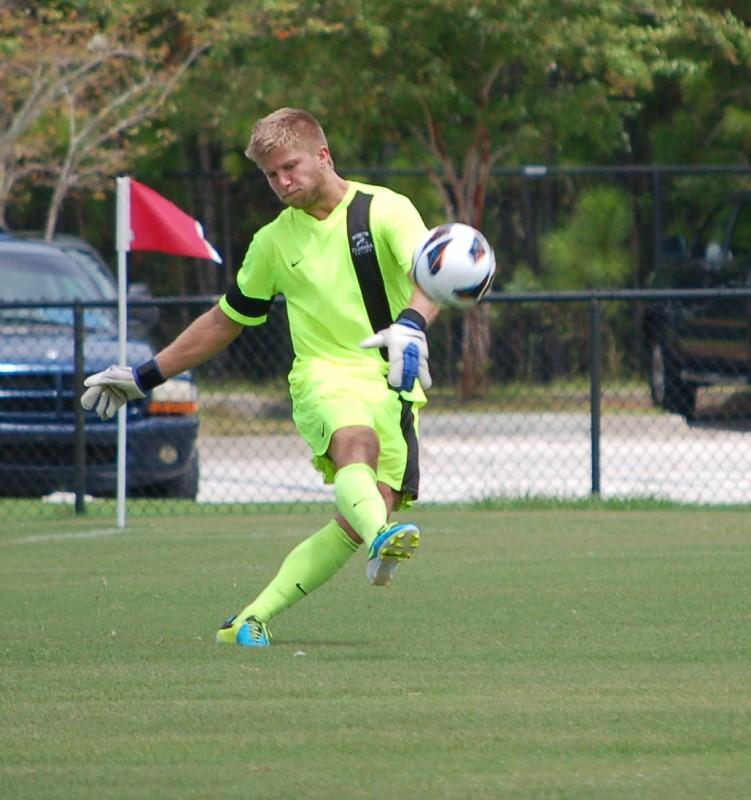 "JFC was a great experience, just because of the level itself," Sienkiewicz said. "I think playing not only against high level players but quality teams is something that will pay dividends this season."
One stat that stood out against the UNF last season was its goal differential, allowing 58 goals while scoring only 19. Sienkiewicz says it is important the team makes sure to do the little things to put themselves into positions where they're not giving up goals.
Not giving up goals is something defender Grady Trimble agrees the team needs to improve upon after last season's difficulties.
"We need to work on finding the chemistry in the back four and get along as a unit," Trimble said. "Also working with the midfield to stay attached, something we needed to work on last season."
Both Trimble and Sienkiewicz were captains last season though both will tell you the armband makes no difference as to who is wearing it in order to lead.
Sienkiewicz said he is fortunate to see the entire the field as a keeper and can help put people in the right positions which will ultimately help the team and himself as things will fall into place with team shape and communication.
"The expectation is everyone can lead to some extent," Sienkiewicz said. "Having experience over the summer and in college I hope to bring that to UNF. Not just with the younger guys but seeing the field as a goalkeeper is something that comes with the territory."
Sienkiewicz will need to stay healthy this season to make an impact. He missed six games last season while dealing with a number of nagging injuries.
Leaders will need to step up, whether wearing the armband or not. The squad was ranked dead last in the A-Sun Conference pre-season polls.
John Michaels, transferred from junior college and is aware of what needs to be done to exceed expectations.
"I know the intensity is different as Division 1 is the highest level so I'll have to bring my experience and soccer knowledge to show that I can keep up with everyone else," Michaels said.
Many of the players and staff say Michaels was a standout for the fitness tests, coming first in nearly every test including the two mile run, something the team had to do in under 12 minutes.
Michaels can attribute that success to his summer training, something he says he worked very hard to do after learning that there would be fitness tests.
"I was trying to keep in shape because if you have good stamina and speed in soccer, the rest will kind of come to you," Michaels said. "I surprised myself that I could keep that kind of pace for 8 laps."
The players went through some rotations during their first scrimmage, showing that they are still looking to find their respective roles on the field. Marinatos says that as far as lineups and formations, they're just trying to get a feel for what suits them well.
"I imagine by the game Saturday we won't have it completely right," Marinatos said. "That's why you have two preseason games and plenty of time for the cream to rise to the top."
Sienkiewicz said that, at least within the first few days, it's truly a team defense and the team will look to attack as a team.
Attacking as a team is something the team will need to improve on as their goals scored per game average was only 1.12.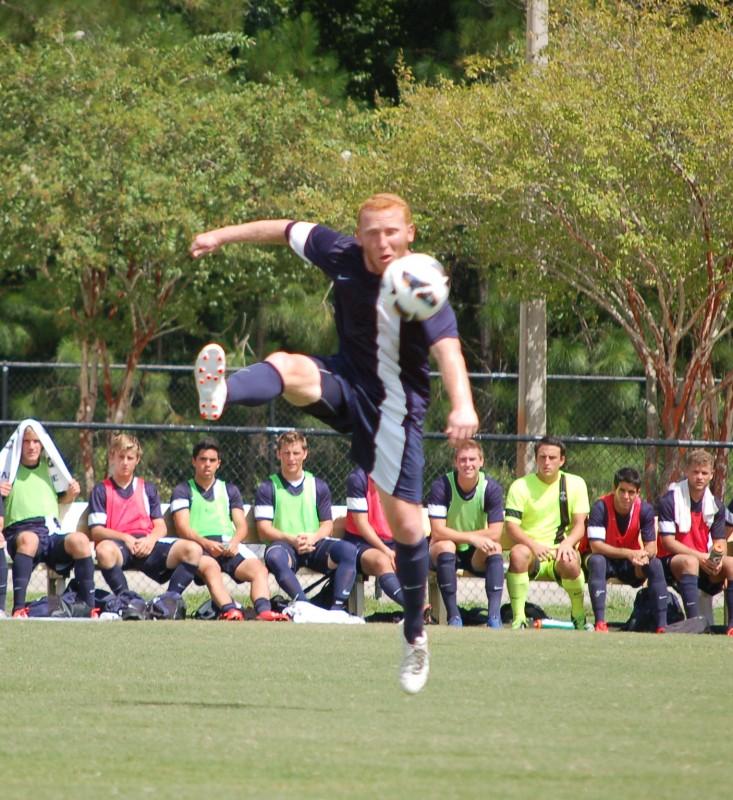 The team took on Georgia Southern in their first exhibition match on Sunday  Aug. 18 at Patton Park, after the match was postponed a day.
Looking strong on the ball, UNF showed their hard work over the summer paid dividends, recording a shutout, though lacking that final touch needed to score. They drew a 0-0 result.
Included in that shutout was a penalty kick save by Sienkiewicz, the sixth year senior is expected to have a strong season in the conference.
With UNF's first game out of the way the team is looking good as a unit as they moved the ball well and created plenty of opportunities, something they will need to do this season in order to get positive results.
Marinatos was pleased with the team's performance as their effort and potential to do well was visible.
Marinatos says there is plenty that can be done with formations as many of the players are very versatile.
The team continues its preseason action Saturday, Aug. 24 at 6 p.m. against Rollins as they look to improve further in the attacking third and find the net.