UNF men's soccer took down Mercer 1-0 with a goal from Sean Young, giving them its first win of conference play Saturday night.
Head coach Derek Marinatos was buzzing with excitement for his squad's win after the game.
"We looked dangerous creating some good chances," Marinatos said. "Mercer pressured us a bit but we came back with good breakaways."
The first half looked to be in Mercer's (3-12-1, 1-4-1 A-Sun) favor, taking six shots to UNF's one, however the second half would be a different story.
UNF (5-5-2, 1-3-1 A-Sun )found the net in the 70th minute through Sean Young's first goal of his career.
Young said Alex Morrell did what he does best beating defenders and put in a great ball.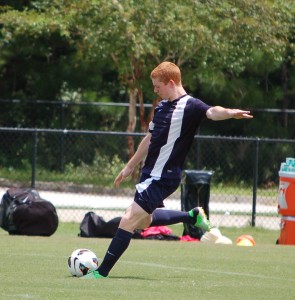 Young said it feels good to get the win, a much needed one as UNF sat in last place before the kickoff.
Marinatos said Young buried the chance and started UNF's run of play.
The team practiced intently for Mercer's style of play, a more direct style that looks to win long balls in the box to create shot opportunities.
The second half proved to be a much better one for the Ospreys, earning eight shots to Mercer's six.
Marinatos said the team began to take over around the 60th minute after a few mistakes were made early on.
"We made a few mistakes," Marinatos said. "They covered us well, hit the crossbar, and Brad had to come up with a big save. About the 60-minute mark we took over the run of play, we were all over them."
With the win against Mercer, UNF are in contention for a playoff berth as it sits in the number six seed with three games remaining. With the win, UNF now has more with this season than last.
Keeper Brad Sienkiewicz earned his second A-Sun Defensive Player of the Week honor for his third shutout of the season lowering his GAA to 1.25.
UNF return to action Saturday night at Hodges Stadium against Stetson (3-8-3, 2-3-1 A-Sun) for a final three game home stand.