Men's soccer returns to Hodges Stadium Saturday
With only three games remaining in the UNF men's soccer season, the team returns to Hodges Stadium for the first time this season Saturday.
The team will play Stetson at 7 p.m.
Due to problems with the field undergoing renovation, beginning over the summer, UNF ( 5-5-2, 2-2-1 A-Sun)  has been playing its home matches at Patton Park nearly six miles away.
Issues with the field kept the men's and women's teams off of it a month and a half after its original game-ready date of mid-September.
Head Coach Derek Marinatos is looking forward to his team returning to the stadium as a majority of the players have never played on the pitch.
"I think it will give us a big boost," Marinatos said. "Half the team hasn't even played at our stadium. Our guys are really relishing the opportunity."
The women's soccer team was able to finish its season at Hodges last weekend for Mercer and Senior Day on Sunday.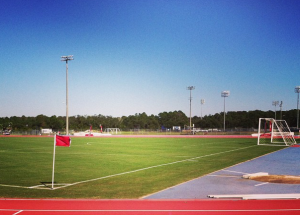 Athletic Director Lee Moon was glad to be able to declare the field suitable for playing and being a minimal risk for the players to play on.
"The biggest thing was making sure it was a safe venue to play on," Moon said. "It's a quality venue because in Division 1 you need the field to be where the ball will roll true and you want to minimize the risk of any injury."
Moon said he had to wait until some of the bad spots filled in and he felt comfortable with letting them play on it.
Though the field was not up to 100 percent, Moon gave the go ahead after checking it constantly and wanted the players to get a chance to host their last few games at home.
Goalkeeper Brad Sienkiewicz played his first season home games at Hodges Stadium last year and said he is looking forward to returning.
"Really looking forward to getting out there," Sienkiewicz said. "The field looks pristine, real smooth, so I think we're going to get to play some good soccer on it."
No one can argue that home field advantage is something every team looks forward to. Hosting another team at a home stadium is one of the intimidation factors that is relished.
UNF witnessed this advantage when it faced Mercer (3-13-1, 1-4-1 A-Sun) away last weekend, in which Marinatos said its fans presented a strong student body.
"We faced a tough Mercer team with a strong student body," Marinatos said. "They were giving Brad a really tough time when he was on their side of the field."
Marinatos is hoping to have that same type of atmosphere for the game Saturday night with the team's return.
Sienkiewicz said he was pleased with Patton Park and their help with hosting them throughout the season, but that nothing beats playing at home.
"Patton did great to accommodate us, but it's different not being at Hodges," Sienkiewicz said. "There's something about being at home. It's a bit of a comfort knowing where you are."
Sienkiewicz, recipient of his second A-Sun Defensive Player of the Week this year for last weeks' games, said that every game from now on will be a dogfight, and with Stetson (3-8-3, 2-3-1 A-Sun) on a two game win streak.
"They need points as well, so they're going to be hungry," Sienkiewicz said. "We're fortunate to be home, but Stetson, top to bottom, is going to be a handful. We have to be sound defensively."