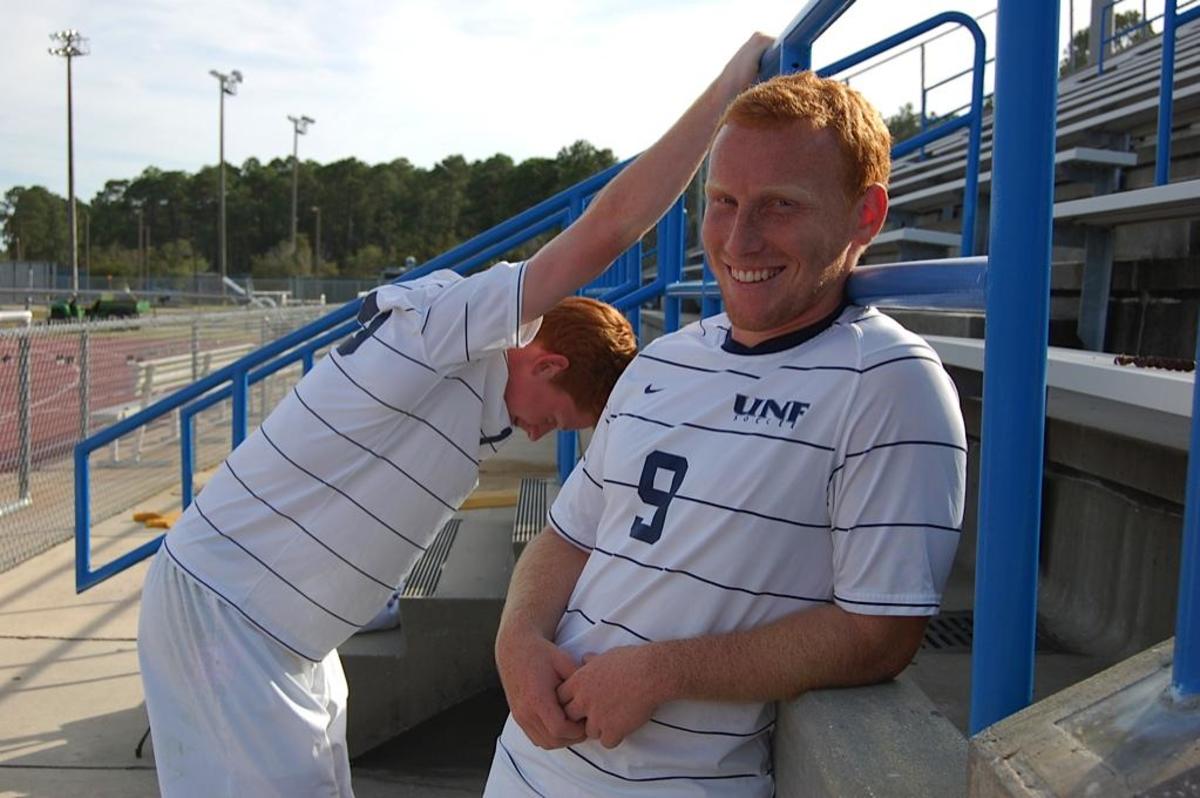 At the end of each season in college athletics, fans wave goodbye to graduating seniors and welcome returning players to step up and lead their future respective teams. With few games left in 2013, UNF men's soccer will not say many goodbyes with just two seniors in the flock. Instead, head coach Derek Marinatos has a wealth of young footballers itching to make their mark on Hodges Stadium.
Marinatos took a recruiting trip early this year that highlighted international players. This third year coach brought cultural flavor to the Ospreys' lineup while still remaining diligent in recruiting in the Sunshine State. He may have found the secret ingredient in Florida to the Osprey soccer recipe: ginger.
Two players aesthetically stand out from the diverse roster: a red-headed pair of freshmen, Jay Bolt and Sean Young. A running joke around the team tabs the two midfielders as the "ginger duo" of the squad, but solid play and hustle prove that these kids indeed have soul.
"As freshmen go, especially from the United States, both [Bolt and Young] have had a big impact on the season," Marinatos said. "[They] contributed significant minutes to our team and helped us win some games."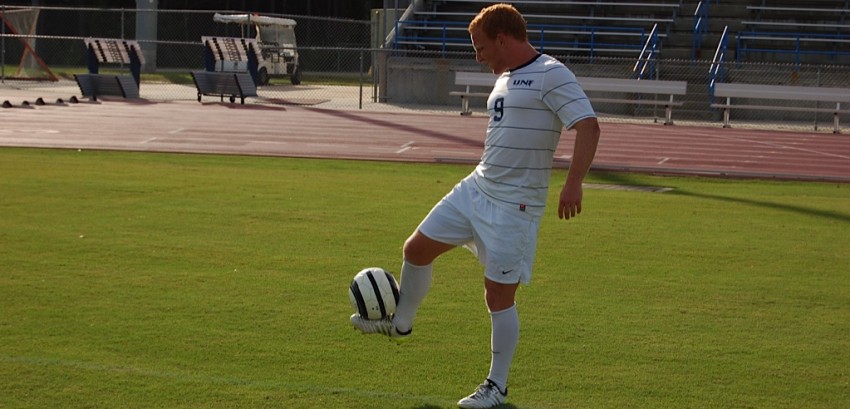 Bolt and Young each have had game clinching goals in their freshman campaigns, the most recent of which Young scored against Mercer Oct. 26. The 1-0 win against the Bears earned the Ospreys' first victory in conference play this season.
"I've had a pretty good amount of opportunities to score goals this year, but I feel like it's harder to score in college because it's such a different pace of play," Young said. "Finally the goal came and I've never had such a happy moment in my soccer career."
In the season opener, Bolt's first collegiate appearance, Bolt scored the first goal of his budding career to lead UNF to a 2-1 finish against Western Illinois.
"It was probably the greatest way to start my college career," Bolt said. "It just gave me confidence for the rest of the season and made me feel better about myself."
The "ginger duo" agrees the most challenging aspect of college soccer is its physical demand. Whether doing strength training, conditioning, or competing against bigger, stronger opponents, Bolt and Young are not used to the demands of collegiate athletics.
"We came here over summer B and had conditioning," Young said. "So we've been putting in work for three months now. It's been physically draining, but we've been keeping up."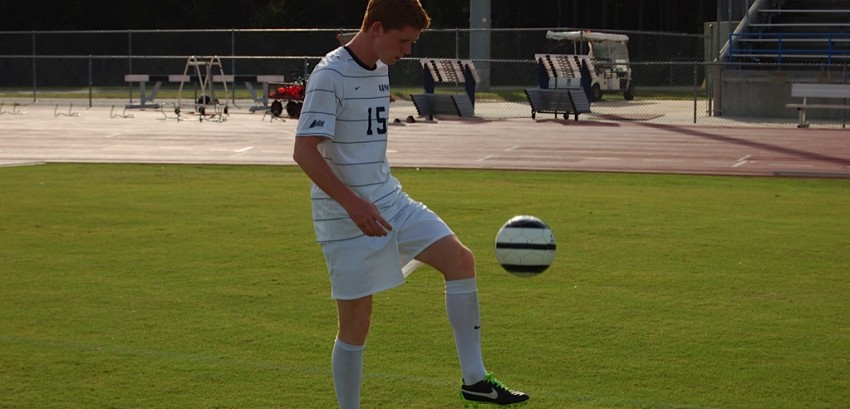 There is a third redhead on the men's team, sophomore defender Drew Bruce whom Bolt says completes a trifecta. The trio has accepted its stereotyped role in the locker room with open arms and freckled faces.
"We stick together. We back each other," Bolt said. "We're used to [the jokes], but we've got a little clan and we stay tight."
Bolt and Young have not grown tired of the ginger quips yet, but they have three more seasons of puns to look forward to.
UNF's bounty of young players doesn't stop with its eight freshmen. They are preceded by eight more sophomores. Of the nine players who have scored goals for the Ospreys this season, five of them are sophomores. Jake Frahm and Max McDaniel each have a goal, forward Alex Morrell has two goals and leads the team with four assists, Drew Spragg has three scores this year after scoring none in 13 games last year, and Jean Rivaroli leads the team with four goals and 10 points overall.
While the team has relished in the play of their youthful overachievers, the team overall has played very aggressively and has the cards to prove it. With 27 bookings, including three red cards, compared to 18 total bookings by opponents, the Ospreys don't mind ruffling a few feathers to win ball possession. Whether a result of aggression or inexperience, UNF can't let excessive fouls and mistakes ruin its chances to compete in the A-Sun conference.
Looking forward, goalkeeper Brad Sienkiewicz and forward Luis Daniel Camejo will leave at season's end as the team's only seniors. This means next season coach Marinatos will have a roster totally comprised of players he recruited. With early success from his upstart freshmen, continued production from second-year Ospreys like Rivaroli, and an experienced class of upcoming seniors, Marinatos is ideally positioned to compete and succeed in a tough A-Sun conference for years to come.