UNF Unable to Upset #1 Seed, Save Legs for Tournament Play
JACKSONVILLE, Fla. — UNF was unable to celebrate senior night with a win after Florida Gulf Coast capitalized on the Osprey's mistakes Saturday.
UNF
(6-6-3, 2-4-2 A-Sun) came out with an attacking mindset and high pressure defense to take the game to FCGU (8-6-2, 6-1-1 A-Sun), but could not finish its chances– finishing the game with a 2-1- loss.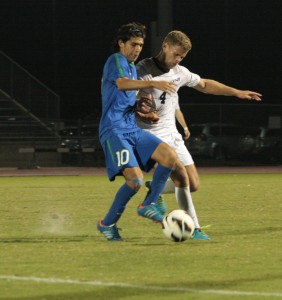 The Ospreys came out with a lineup containing some unfamiliar faces in order to save legs for tournament play Wednesday.
Drew Bruce earned valuable minutes with Simen Solstad out on injury and Niklas Schuessler suspended for one game due to yellow card accumulation.
Bruce caused the equalizer in the 48th minute, credited as an own goal, after UNF started the second half like the first, with high pressure and attacking mentality. Bruce said it was good to get some minutes and to score the goal.
"We had a long throw which is something we've been working on all week," Bruce said. "It was physical in the box and I just saw an opening, worked hard to get to it and ended up going in the goal."
Minutes later, FCGU took the lead once more with a long ball from Isaiah Madrid to find Henry Penagos in the box. Penagos took it with confidence and struck a half volley into the far post.
FCGU's first goal came in the 1st half at the 37 minute mark after their matching pressure paid dividends.
Felipe DeSousa won the ball near half field and made a surging run down the left side, FCGU's main point of attack in the half. DeSousa found space in the box and struck a low shot past Brad Sienkiewicz, beating him at the near post.
FCGU gained many of its chances on the counter after UNF had trouble holding onto the ball in the middle of the field.
While FCGU found many opportunities on the counter, they only outshot UNF 12-10.
Captain Luis Daniel Camejo said it was good to rest some of the starters and save legs, but that the team tried a new formation and needed to stay composed.
"We maybe needed more composure," Camejo said. "We tried a new formation today within the middle, getting out wide and playing with two forwards. I think it was just a combination of trying to find rhythm and playing together."
With players such as Bruce, Grady Trimble and Camilo Garcia getting the start and a lot of the bench coming in, a definitive rhythm was hard to find.
FCGU came out with their starting eleven, looking to add another win to its name going into the tournament and force the issue on UNF.
Head coach Derek Marinatos said the team did well to outmatch UNF's pressure with its own but that the Ospreys came out with an attacking mindset.
"I thought we came out with a good game plan and executed the first half," Marinatos said. "We go up 1-0 it changes the game. We went for it and decided to change our shape and bring in subs."
The No. 4 seed Ospreys will take on the No. 5 seed Mercer Bears in Ft. Myers Wednesday in the first round match-up of the A-Sun tournament.