No Goals, No Playoffs for Women's Soccer
The clock read 0:00 when the final whistle was heard for what would be women's soccer's last game Sunday, October 27. The final score was 4-1, the end of a four game win streak for the women, but it was too little too late as they failed to make the conference tournament.
UNF's (6-9-4, 3-4-2 A-Sun ) season ended the way it should have began. Losing only one game in its last six, the Ospreys made a run for an Atlantic Sun Conference Tournament spot but fell one game short.
The team struggled to find a rhythm early on, winning only one of its first seven games, including a four game losing streak as it tried to find the chemistry necessary to be a dangerous team.
Head coach Linda Hamilton said a team can't expect to get results if they are not scoring a lot of goals, something that UNF was unable to do.
"You can not win any games if you don't score goals, especially with ten goals against in four games," Hamilton said. "Regardless of what happened, regardless of that (10 goals against), you have to score goals. We could have only had five goals against us and still lost those games."
Lanie Keating said the team had plenty of talent between the seniors and incoming players, but that they were unlucky not to do well in some games.
"Everyone on the team is talented enough to do what we need done," Keating said. "I just think the game, the warm up, the chemistry as far as who was in with whom, some teams have one bad game then two good ones and I think ours just fell together."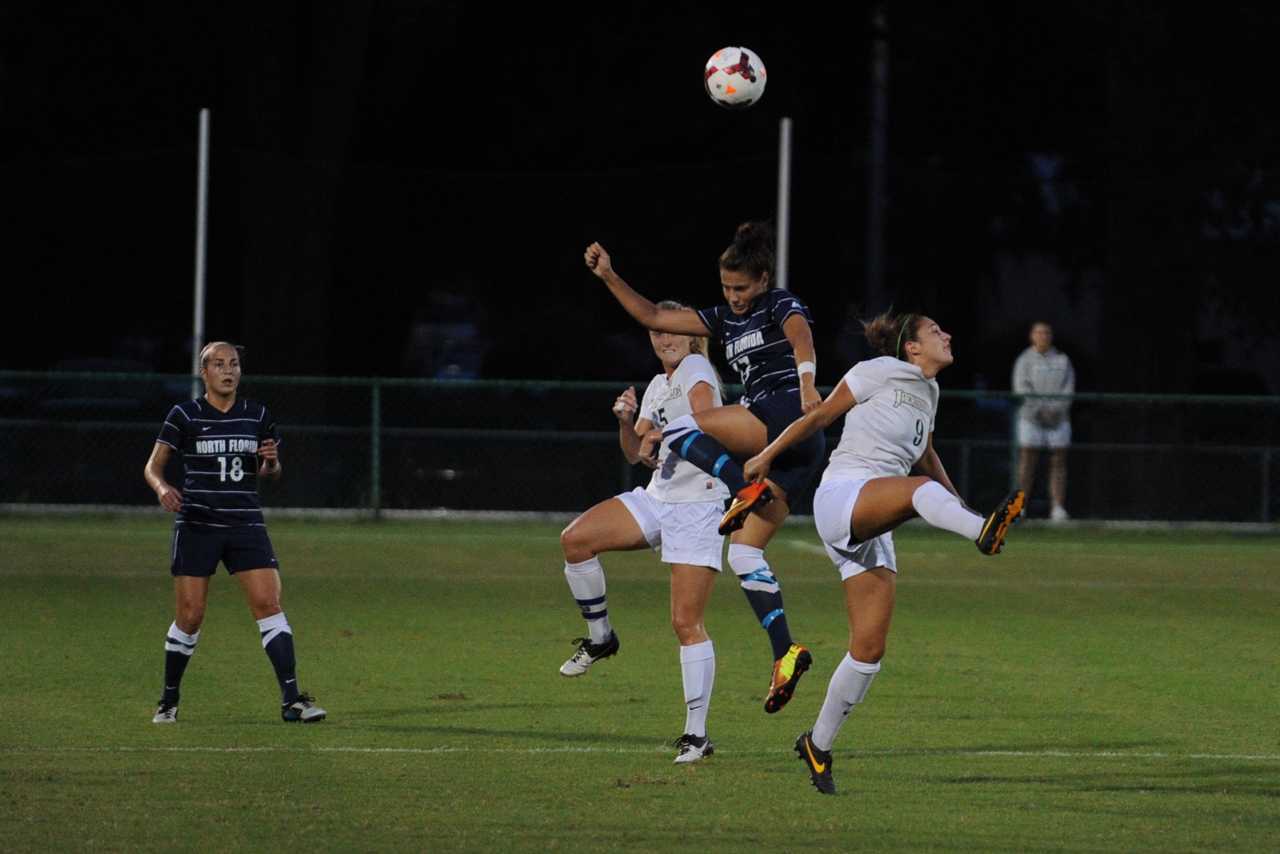 UNF allowed 27 goals throughout the season and missed starting keeper Megan Dorsey for the first five games.
Dorsey was out for over a year with a broken left collarbone and was still not 100 percent upon returning, head coach Linda Hamilton said.
True freshman Susie Ford and freshman Victoria Ekeli accounted for 11 of the goals against, though Ford played all the minutes in the opening games except a second half against UCF.
Dorsey returned against the University of South Florida, a game that was lost 1-0, but afterward, UNF began to show signs of improvement.
Dorsey said it was great to come back after sustaining the injury, something Keating could attest to.
"We're excited to have her back next season," Keating said. "We were hoping she was going to be back this season and she came back sooner than we thought. She's the best goalkeeper in the conference; we all think that."
Dorsey earned three shutouts during the rest of the season, accounting for one-third of her career total.
The team earned 7 points in the next four games in preparation for conference play, but then dropped three consecutive games to begin A-Sun play.
Hamilton said with the team struggling to find their identity and working in a new system, it was difficult for them to really make an impact throughout the season, particularly in the beginning of conference play.
"Their identity struggled with maybe their confidence," Hamilton said. "We were learning a new system this year, a different type of system with different players fulfilling different roles. Where we were at the end of the season is where I would've liked to be at the start of conference."
When looking back at last season, the stats are not too far off when it comes to difference in goals against vs. goals for, having only a -1 goal differential as opposed to a -4 differential last season.
A big difference this year was the offense going scoreless in nine different games, something Keating thinks was clustered instead of being spread across the season.
"If you look, talent wise, Carolina [Lencina] and Auggie [Lauren Hopfensperger], before the season were statistically two of the best forwards in the conference," Keating said. "Our bad games just happen to fall in a row."
The offense forced a total of 309 shots, finding the target 137 times as opposed to number one seed Florida Gulf Coast's 384-180 shot tally. FGCU also scored 43 goals to UNF's 28, showing the A-Sun Conference what it takes to earn the title of season champions.
Hamilton will have to replace nearly a full squad of seniors, losing seven players which incorporated her first recruited class.
She said the team will bring in speed and look to, as always, out recruit the last class so the level of play does not drop.
"It's been wonderful to watch these young adults grow in a cool time in their lives and with this class in particular, with a lot of things happening, you obliviously form personal relationships and I treasure that," Hamilton said. "We're bringing in some speed and athleticism to add to an already great core."