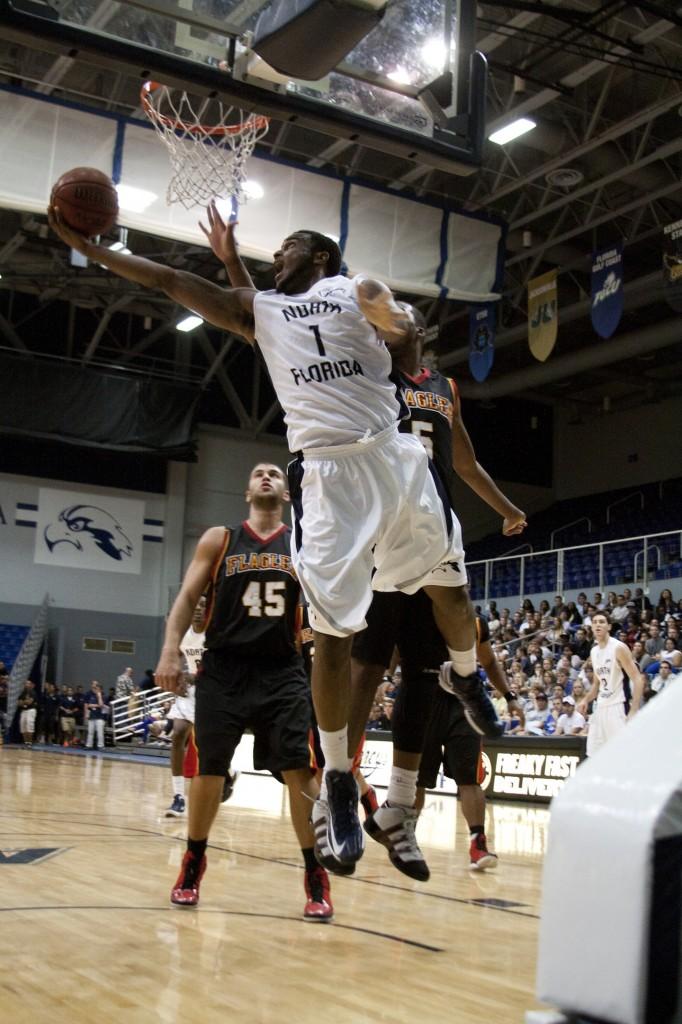 by Scott Kunath, contributing reporter
The University of North Florida Ospreys defeated the Lipscomb University Bison 78-73 Saturday despite 26 turnovers, propelling the team into a tie for first place in the Atlantic Sun Conference.
The win is the Ospreys' (9-7, 3-0 A-Sun) fourth straight, and marks the team's best start to conference play since the school transitioned to division I in 2009.
Head coach Matthew Driscoll said that team needs to recognize the mistakes the team made en route to this win.
"Anytime you have 26 turnovers on the road and still win the game," Driscoll said, "these guys need to realize what they just did."
Despite the high number of turnovers, it was their defense that kept the Ospreys in the game.
"We executed and let our defense lead to our offense," Driscoll said.
UNF went on a 12-0 run late in the second half and made free throws in the last minutes to seal the victory. Beau Beech led the Ospreys with 19 points.
Travis Wallace continued a great overall start to the new year by adding 17 points and eight rebounds in the win.
Wallace's strong play hasn't gone unrecognized, earning A-Sun Player of the Week Monday. He averaged 18.3 PPG, 8 RPG and shot 60% from the field over the last three games to receive the honor for the second time in his collegiate career.
The Osprey's look to win their fifth straight game and improve to 4-0 in the conference against the Northern Kentucky Norse Monday night at 7 p.m. in Highland Heights, KY.
Email Andrew Nichols at [email protected]