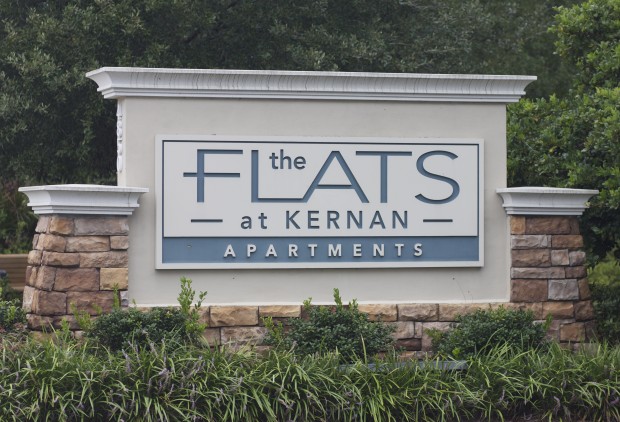 UNF is in the final stages of buying The Flats on Kernan.
President John Delaney said the UNF Board of Trustees has to approve first, and hopes to close by the end of the month.
The Flats will cost $30.5 million, and will be used for upperclassmen housing.
Delaney said UNF will honor all current leases. He said The Flats will house only UNF students, and maybe some FSCJ students starting Fall 2015.
The university will now be able to house 3,500 students on-campus. The Flats can house about 450 people.
He said The Flats will keep its yearly lease structure, unlike other on-campus housing that is leased by semester.
UNF started looking into buying The Flats a few years after it was built in 2008, Delaney said.
He said the university wanted to purchase The Flats to add to the housing mix. He said he'd like to have 6,000 students living on-campus eventually because it adds to student life.
The university has a no layoff policy and will keep as many staff on as possible, Delaney said.
John Rood, owner of The Flats on Kernan, is a longtime friend of Delaney. Rood has served on the Florida Board of Governors and has been a donor to the university for three or four years.
In a previous interview with the Spinnaker, Delaney said, "I actually told [Rood] some years ago that… when you build apartment complexes like that you do tend to flip them after five or ten years, sell it to somebody else, take your profits and then invest it in something else."
The loan is coming from the UNF Financing Corporation, a Florida nonprofit corporation and direct support organization of UNF. The university will pay back the loan with the rent it receives. Delaney said the revenue will go back into Housing.
He said The Flats will now have resident assistants.
Concerning students living off-campus and not having to adhere to certain housing rules, Delaney said, "We'll be more liberal on that than we have in the past."
Delaney said we want to keep The Flats full.
He said UNFPD will add The Flats to their rounds because it will be university property.
Email Blake Middleton at [email protected]