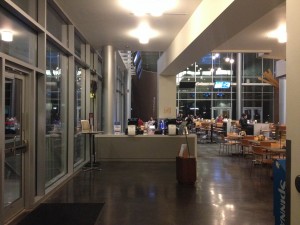 Student Government (SG) is discussing the installation of a video board and possible renovations for the Boathouse following the results of a "Your Voice, Your Choice" survey.
At SG's University and Student Affairs Committee meeting on Oct. 20, Student Advocate Ryan Hennessy said they are looking into an HD video board to be installed in the Student Union.
When SG asked students if they'd like to see a new video board in the Student Union Osprey Plaza to promote on-campus athletic events, 68.83 percent of the respondents said yes.
"We're trying to give it straight to athletics because if I control it or someone else, they'd be emailing me saying 'Hey put our club meeting on' or something like that," Hennessy said in the Oct. 20 meeting.
One committee member suggested the Student Union could operate the video board and decide what content is posted there.
Hennessy said he felt the new video board would be great way for the school to publicize events on campus, and using the monitor for athletics only would be better than including messages for all clubs and organizations.
"It's all different things," he said of the existing monitors. "It's clubs, it's meetings, different events on campus. I want people to be able to say, 'There's a game, where do I look to see if there's a game?' It's right there."
The schedules for all UNF Athletics events are currently up on the Athletics website.
The committee also discussed possible changes to The Boathouse, including remodeling a section into a lounge and building a stage area for shows and events.
The "Your Voice, Your Choice" survey showed 60.11 percent of respondents supported renovations to The Boathouse.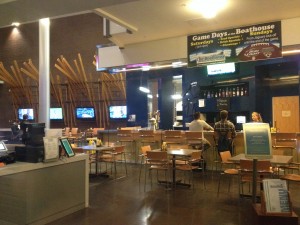 "It'd be good to renovate The Boathouse – people use that," said Margaret Watts, social work sophomore. "Everyone would benefit from that. But a giant TV screen? Not so much. There are more pressing needs on campus."
Some students felt that it wouldn't be fair to limit the use of the monitor.
"It seems unfair," said Marienette Carpio, exercise science junior. "I mean, everyone should have access to it."
Hennessy said the installation of additional monitors would be "something to consider," but he believes they would help build the atmosphere of the Student Union.
The Spinnaker reached out to Student Body Vice President Anthony Stevens, and he was unavailable to comment.
Email Jasmine Marshall at [email protected]