Kaitlin Ramirez on noncompliance, vague statutes and the tension in SG
Over the past two months there has been some tension in Student Government as noncompliance after noncompliance was issued. While charges were filed against several people within each branch, former Senate President Kaitlin Ramirez received the most charges filed against her.
Spinnaker caught up with Ramirez to gather her side of the conflict and learn more about her resignation.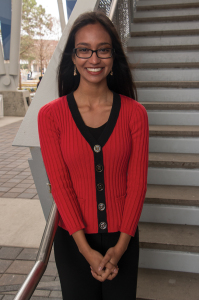 Spinnaker: Talk to me about your decision not to rerun for senate president. What were some of the thoughts going through your head when you decided that you were not going to run for another term?
Kaitlin Ramirez: When I first wanted to be senate president I had a lot of ideas of how to improve Senate and I just wasn't able to do any of it this semester …. September was great and Oct. 1 [was] when Joe talked to me about a concern and then the next day in the morning he filed a noncompliance …. I didn't really foresee the noncompliances coming to an end as much as I hoped they would so I thought it was best that I stepped down just for the sake of Student Government and the legislative branch because I just wouldn't be able to serve properly as senate president having to constantly go through hearings.
Spinnaker: So why didn't you foresee the noncompliances coming to an end?
KR: Just how the decisions were being made with the judicial complaints and what was being found in merit and what wasn't being found in merit. It seemed that the system was broken and I wasn't getting a fair process ….We're college kids and it's really great that we get this opportunity to do this, but it seemed harsh for the first [noncompliance] to not really follow what was written. To interpret that this 11 days meant so much more than what was actually written. And to not even get a chance to change it.
Spinnaker: Do you think that the Constitution and Statutes and Policies and Procedures contradict themselves?
KR: Definitely. I think that there's a lot of, unfortunately, contradictions in all our governing documents but that's really because we just have all these different students coming though and when you make one change to one thing, changes aren't made to everything else as they should.
Spinnaker: Was there ever any talking letting you know that this was going on? Did you ever get a chance to try and remedy the problem?
KR: So on Oct. 1… he [Joe Turner] came by my office to say, 'Hey. I have a concern. There's this 11-day thing. Can we talk tomorrow?' and of course I was looking at him like, 'What? I know all my timelines.' But I was just like, 'Yeah. Absolutely. When are you free?' And we set up for 3:30 p.m. the next day… at 9:08 a.m., [the] official noncompliance was filed. And I was dumbstruck. I was like, 'No. What, what? I thought we were gonna talk.' I was really sad so I cancelled our meeting because I thought, 'Well, okay, well he kind of got the ball rolling. I guess he doesn't want to meet.' He still came by my office .… And then it just got into an argument from there.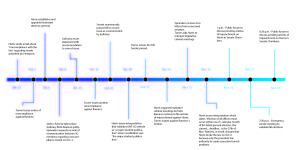 It was just really troubling. All I ever wanted to do was just make sure stuff gets done and if there really is–if I really am a bad senate president, I kind of went around like a little nut. Like, 'Where did I go wrong? Like tell me I'm wrong.'
Spinnaker: How have your fellow senators reacted?
KR: It's been really interesting. I'm probably really naive when it comes to Student Government. At least I was when I started all of this. You know, why aren't we all just friends? We're all here to serve the students. It was very naive thinking because politics gets thrown around…
Some senators have been nice, but because this [was] immediately shown as like, 'This is against Kaitlin.' I think it's human nature. You don't wanna, kind of, put yourself with a sinking ship. So as much as some senators privately cared for me and want the best for me, they're not going …. They didn't feel as brave publicly doing something because, well, they have future career ambitions and I could possibly taint that for them if they wanted to help me .…
So if there was a bigger pool of support, I think then that fear would have been smaller. But because Joe is so charismatic, Joe made his side very clear…
So, that's kind of like where the senators have gotten. It's gotten really polarized, really fast.
Spinnaker: How do you think what's been going on for the last two months will affect your future career?
KR: The super bright side is that I'm so glad I've gotten this experience in, like this training ground environment. Like this political simulation .… I think if I didn't have my family, and if I depended on the senate president paycheck that could've been my reality. Of 'Oh no, oh no. I need this.' But thankfully, I have family support. And I don't think this is going to affect me negatively. I'm just so grateful that, in a way, that this experience has been given to me. I'm learning how maybe I should have handled things differently here, how to handle things here. Maybe to [be] more clear. In the most recent hearing, where I was found in violation for Shomari not uploading within the 11 days, they said that you know it comes down to leadership. So I'm happy to, like, learn different leadership skills… [If] I needed to follow up with him every day or every two days, every few hours, I could've made that adjustment. I just don't think that I was given that chance.
Spinnaker: How is it working with your advisors?
KR: My meetings with them were in October. Really, all of October. And then, their advice was, 'Just do your best. Unfortunately, this process is already started. And we see where you're coming from and hopefully the justices can make a fair decision.' They, I think, are in a very interesting position because they don't want to sway what we do. They really want us to do whatever… How I [understood] that is, they really want us to just really own our position. Like really own our position. So when they're giving advice, they don't want to be telling us what to do. They don't want to give us any predestination or anything. It's really your own thoughts. And so they're just very, 'Yeah this is happening.' And I'm like, 'Yeah. Man…'
Spinnaker: Why did you decide to endorse Chase Baker?
KR: Out of everyone… In a way it relates to your previous question about the camps. Chase omits all this. Has only improved himself in his own position .… He, at least to the best of my knowledge, didn't get involved with this back and forth. And I'm very impressed with what he's done as the University Student Affairs chair. And I think he's very diligent and really by the book, but also very friendly. There really needs to be a friendly face in Student Government… it seems like somehow the entire Senate would be comfortable following his lead.
Spinnaker: Do you think that, now that you've stepped down, will Senate start coming back together?
KR: I definitely think we'll be able to come together. I play all these worst case scenarios now and it's funny visiting our Constitution and Statutes and seeing what could be done .… I think, maybe if I go to propose legislation, depending on when and if this is truly moved on I may get, like a bias. But that's the worst case scenario that I have in my head right now.
Spinnaker has edited the interview for clarity's sake. To view the full interview click here.
—
For more information or news tips, contact Sarah Ricevuto at [email protected]; if you see an error in this story or have any compliments or concerns, contact enterprise [email protected].