Inherent Vice: a hilarious, paranoid romp through 1970s Los Angeles
Los Angeles, 1970: the Age of Aquarius is slowly being suffocated. The sunny, utopian California dream of the hippies is burning up thanks to encroaching drug addiction, the crushing disgust of the conservative establishment and some evil astronomical vibes, man. It's here where Thomas Pynchon, reclusive novelist of our time, chose to set Inherent Vice. In his film adaption, director Paul Thomas Anderson creates a window into the writer's vision, perfectly blending their aesthetics.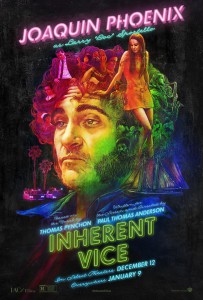 Like many noir stories, the film begins with a private eye being visited by a woman from his past. Doc Sportello (Joaquin Phoenix), the resident stoner gumshoe of Gordita Beach, gets a call from his endangered ex-old lady, Shasta Fay Hepworth. Her case leads him into a world of conspiracy, intrigue and peril, all dealing with a mysterious, omnipresent drug operation known as the Golden Fang. Along the way, we encounter many colorful side characters: LAPD detective Christian "Bigfoot" Bjornsen (Josh Brolin), a stiff, disgruntled cop who enjoys teaming up with Doc as much as taking him in; Coy Harlingen (Owen Wilson), a surf rock saxophonist and heroin addict shanghaied by the Fang; and Sortilège (Joanna Newsom), the hippie queen whose dulcet tone provides narration.
Phoenix's performance as Doc, his second leading character for Anderson following 2012's terrific The Master, prizes the truism "acting is reacting." As Doc responds to the madness of his surroundings, he only gets more strung out – mirroring the audience's bewilderment. Out of the supporting cast, Brolin makes the best impression as Bigfoot. He perfectly portrays the detective's conflict between the buttoned-up life he leads and his desires for action chasing around hippie scum and violating Californians' civil rights.
The music might as well be a supporting character as well. Jonny Greenwood of Radiohead returns for his third collaboration with Anderson, balancing his cryptic string arrangements and low-key, moody guitar jams with period music ranging from Chuck Jackson and Minnie Riperton to Neil Young and German experimental band Can.
In his films, Anderson crafts a distinct mood of unease and confusion, which only increases throughout. He plays with us and his characters using colorful cinematography, slow zoom-ins and long takes. He lets us relax into a scene until we're left spellbound – a perfect analogue to Pynchon's dense, comical writing. Anderson's script from Pynchon's novel, interpreting it in his characteristic way, but leaving in the dry comedy. What results is a hilarious, well-paced film that sends viewers on a slow-burning trip.
If you go into Inherent Vice expecting a simple mystery, you'll be let down and scratching your head. Just let it work on you. Let it send you into the haze.

—
For more information or news tips, contact [email protected]; if you see an error in this story or have any compliments or concerns, contact [email protected].