Student body president set to graduate, leaves legacy behind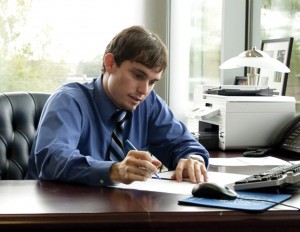 But after walking into his office for the first time after a victorious campaign, Barnes said he realized something that he'll never forget.
"The only way you can make something change — the only way you can really change it — is to give 100 percent of yourself," he said. "And I was lucky enough to have [co-workers] who really believed that same thing and supported me."
Now mementos of Barnes' legacy rest all over his office on various plaques — Sigma Alpha Epsilon brother, Student Government senator, Senate President, Student Body President, chair of the Florida Student Association and student representative on the Florida Board of Governors.
During his two year term, Barnes has grown emotionally and learned things he would've never been able to glean from a classroom, he said.
"I'm the kind of guy where I'd rather give you a fish than teach you to fish," Barnes said. "I've learned that for the rest of my life managing people, I'm going to teach everybody how to fish."
Spring 2010 marks Barnes' graduation and the end of his political and collegiate career at UNF. Various candidates are already gearing up for this semester's elections, while Barnes can only look back at what SG has accomplished under his leadership and forward to where life might take him.
During his term, Barnes said SG increased school spirit, extended library hours, gave more attention to distance learning and online classes, and created the graduate student lounge. He also said both himself and Student Body Vice President Mike Saathoff put the finishing touches on the Student Union — such as picking out furniture.
SG isn't done working, as it is still planning an on campus spa, Greek housing, and Compassion 2010, a nonprofit concert scheduled for Feb. 20 that will aid the victims of Haiti's recent earthquake, Barnes said.
SG isn't done improving, Barnes said. The creation of SG Awareness Month and the weekly town halls associated with it didn't turn out the crowd he'd hoped for, with only one student at the housing town hall Jan. 27.
"We did a terrible PR job [for SG Awareness month], and that falls on me and my team," he said. "But I'm still happy that we did it … and I hope that the president after me continues it."
When asked who he wants to take over his post and corner office when he leaves, Barnes told the Spinnaker that he's endorsing his current chief of staff, Tom Blanchard, who is running under the Red Party banner with running mate Sen. Laura McGregor.
Quote
Saathoff is also running to replace Barnes but under a new party called United Ospreys with Club Alliance Assistant Director Brandon Alanis.
Barnes said he is grateful to his mentors — the Vice President of Student and International Affairs Dr. Mauricio Gonzalez and UNF President John Delaney, who meet with him on a periodic basis to offer advice and guidance.
As far as the future goes, Barnes said he has applied to various law schools in Florida and hopes to one day become a state representative.
"Anyone who knows the name John Barnes, I hope that they know I came to UNF, and that I love this place with all my heart, and I gave it everything I had."