Memorial service planned for Garth Sangree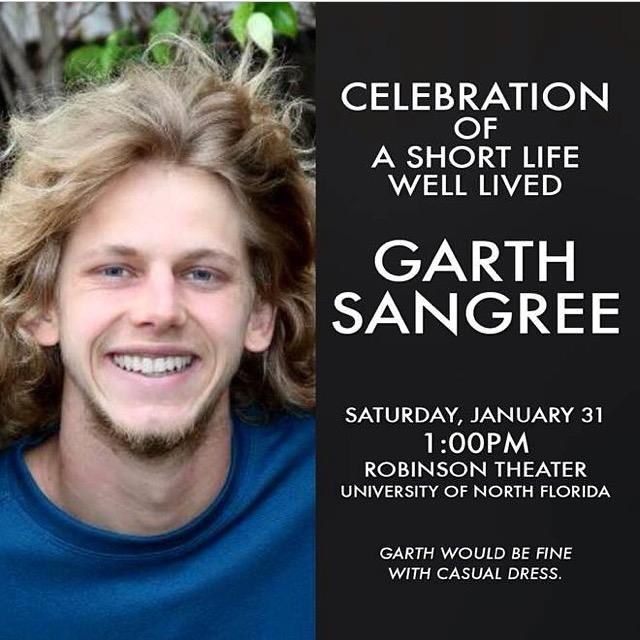 UPDATE-1/29/15 at 3:55 p.m.
Chets Creek Church will hold a memorial service for missing UNF student Garth Sangree this weekend, according to UNF Public Relations and Mark Smith, Sangree's pastor at Chets Creek.
The service, which is called "Celebration of a Short Life Well Lived," will take place on Saturday, Jan. 31 from 1-2 p.m. at the Andrew A. Robinson, Jr. Theater. The doors open at 12:30 p.m. The community is invited to attend. Casual attire is appropriate as Smith told Spinnaker, "Garth would be fine with casual dress."
Instead of flowers, contributions may be made to Jacksonville Baptist Collegiate Ministries,  Jacksonville Baptist Association, 2700 University Blvd. S., Jacksonville, Fla. 32216.
***
Chets Creek Church is planning a memorial service honoring Garth Sangree, who has been missing since Friday, Jan. 23.
According to Mark Smith, Sangree's pastor at Chets Creek, the date, time, and location of the service is still being determined, but he plans on having that information ready by the end of today or early tomorrow.
The service will be a "celebration of Garth's life," according to Smith. The U.S. Coast Guard called off the search for Sangree yesterday evening. Neither the Coast Guard nor Smith are aware of any independent searches going at this time.
Spinnaker will post the date, time and location of the memorial service as the information becomes available.
—
For more information or news tips, contact [email protected]; if you see an error in this story or have any compliments or concerns, contact [email protected].