Steak, Hot Pockets and always taking the elevator: Jim Gaffigan performs at the UNF Arena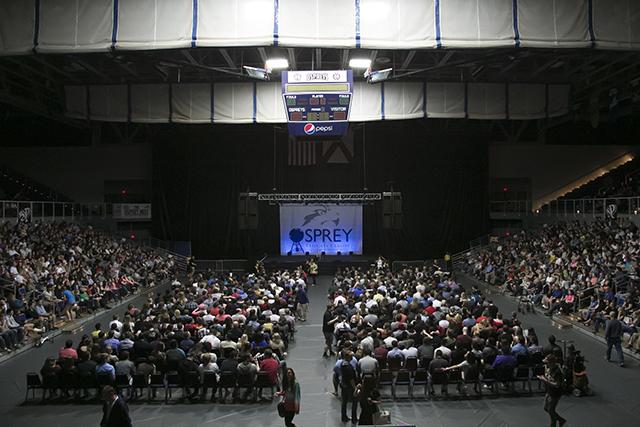 There is nothing better than delivery and no one knows that better than Jim Gaffigan when it comes to comedy — or food.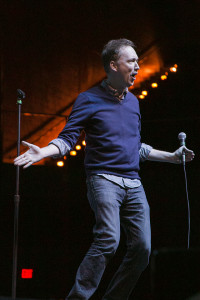 The show opened with comedian Tom Shillue who joked about childhood in the 1970s. In his eyes, dads were scarier and television commercials were hilariously unfiltered – specifically an Armour Hot Dog jingle.
Although not cheap, fast or reheat-able in a dirty microwave, Jim Gaffigan's set was as smooth as a deep fried stick of butter.
The 5800-seat UNF Arena was packed for Gaffigan's "Contagious" tour. OP Assistant Director Andrew Coconato said 4800 people were in attendance, 1100 being non-students. 500 additional chairs on the arena floor were filled.
Gaffigan's self-depreciating humor covered his fascination with Hot Pockets, bad parenting and laziness, taking a clever look at American culture. Homecoming comedy show goers watched Gaffigan perform stand-up similar to his recent appearance on The Tonight Show, as well as jokes from his opening monologue when he hosted The Late Late Show last month.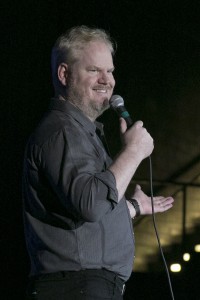 Gaffigan's smooth transitioning and relatable humor makes it almost come as a shock that Wall Street Journal dubbed him the "King of Clean." Perhaps this is because the audience is too busy laughing to notice his comedy isn't obscene.
"I watch a lot of T.V. and drink a lot of coffee," Gaffigan said, "but you know what is addictive? Heroin."
Whether joking about Jacksonville's terrible city planning or his New Year's resolution to eat pasta everyday, Gaffigan's humor is infatuating. It's hard not to like him. He is addicting. Laughing at him feels like you're laughing at yourself.
—
For more information or news tips, contact [email protected]; if you see an error in this story or have any compliments or concerns, contact [email protected].