Opinion: Student media publish the truth, people get upset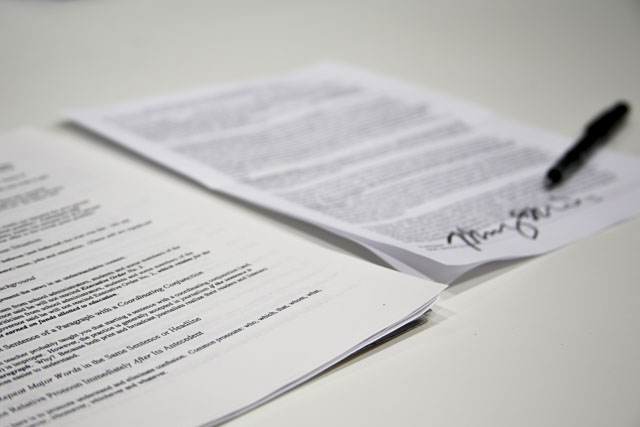 Recently at Oklahoma University (OU), a big star threw a big fit and college media had to deal with the consequences.
When Jack White scheduled a concert at OU, their student media organization published his contract, with special attention given to its more ridiculous provisions.
For example, the contract states, "this is a NO BANANA TOUR. (Seriously.) We don't want to see bananas anywhere in the building."
In the band's dressing room, the contract is adamant about the type of guacamole that is provided, going so far as to give a recipe, telling the reader "we want it chunky."
The contract also included list after list of the specific foods and drinks that should be provided at different times, as well as specifics regarding the dressing rooms ("NO fluorescent lighting").
Despite the fact that this contract was public knowledge and The Oklahoma Daily was well within their rights to publish the information, The William Morris Endeavor Entertainment talent company blacklisted OU after their article.
Because of the article they published about White's contract, the company will no longer bring musicians or talent to the university, The Oklahoma Daily reported. A representative from the company told OU that until the Oklahoma Open Records Act was modified to protect private information, they would not be performing any shows on their campus.
The act is what compels public entities of Oklahoma to respond to records requests, which gave The Oklahoma Daily access to the contract.
What gives an entertainment company the right to demand changes to state law? The fact that their artist had his feelings hurt because people thought his demands were ridiculous? Isn't part of being a celebrity being scrutinized in public? Further, what gives that company the right to dictate what journalists choose to publish?
Unfortunately, this is not an isolated event. Similar questions arose on our own campus two years ago when Billy Joel came to campus. Osprey Productions signed a contract that stated, "There is to be no off-campus or general advertising or publicity of any kind, via any medium."
Naturally, when Spinnaker heard about the event, they published it. Through their respective advisors, OP then came to Spinnaker and requested that we take down the story, as it violated their contract with Joel's publicist. Spinnaker refused and rightly so.
Trying to influence what a media organization publishes is censorship. Trying to get a media organization to not publish something is censorship. It's the role of the media to inform people what's going on, whether it's a concert happening on campus or the ridiculous contract that got that musician there.
White put his thoughts in a post on Thirdman Records on Feb. 15, where he began by complaining about all the questions and press he has received because of this incident.
"It's bad business what that school paper did and really rude," he wrote, saying that the Oklahoma Daily was making fake drama and not publishing the truth.
However, what was published is not the issue. It's the company and artist's response to it. If it had been The New York Times publishing the information, would they have gotten a slap on the wrist from an entertainment company and a stern lecture from the artist? Hardly. Their right to publish public information would have been recognized and accepted.
Student journalists are too often considered easy targets for people to influence into doing what they want. Because we are young, maybe, or because we are housed within larger universities and communities that feel like we owe them something.
What all media owe any community is information and truth. Student journalists think that people deserve to know that information and truth and will continue to distribute it no matter how many people try to infringe on their freedoms.
It's going to take a little more than an illegitimate contract or being put on a blacklist to make journalists–students or otherwise–stop reporting the truth.
—
For more information or news tips, contact Cassidy Alexander at [email protected]; if you see an error in this story or have any compliments or concerns, contact [email protected].