A night in the life of the UNF Police Department
"What's the most weed you've ever seen while at UNFPD?" I asked Officer William "Kyle" Morgan. Most marijuana cases at the University of North Florida Police Department (UNFPD) are less than 20 grams, so I was expecting him to say somewhere around 30 grams, maybe 40 at the most.
He said, "76 grams."
While I didn't end up seeing 76 grams of weed during my ride along with Morgan, I did experience what seemed like a typical (yet still exciting) night in the life of a UNFPD officer.
One of the most fascinating aspects of being a journalist is having the desire for two completely different outcomes for the same situation. Allow me to explain.
I chose to participate in a ride along with a UNFPD officer from 9 p.m. until 3 a.m. on Friday, March 27 for a reason. (Big thanks to UNFPD's Deputy Chief Charles "Bill" Strudel for allowing me to ride past normal hours).
I've been working as Spinnaker's police reporter since January 2015, and if there's one thing I've noticed from police reports, it's that most of the "action" happens late at night on weekends. The hardcore journalist inside me wanted to be there for something crazy. At the same time, I would never want to see a fellow Osprey in danger. That said, I think I experienced the best of both worlds.
Getting started
Admittedly, I was nervous. If one thing about doing the job of a police officer is certain, it's that nothing is certain.
I arrived at the police station at around 8:45 p.m. and waited about 15 minutes. Then out came Sergeant Deborah Price and Morgan. Price informed me Morgan would be the one I'd be riding with for the night.
Morgan's a calm guy, relatively soft-spoken. He almost came off as shy. It was hard to get words out of him at first, but as the night progressed, he opened up a little more.
The first item on his agenda was testing his laser — the device he uses to measure the speed of cars — for accuracy.
Morgan was working zones two and four. Zone two is anywhere outside the core of campus — the University Center, Hicks Hall, etc. Zone four is all the parking lots and parking garages.
Beginning the ride along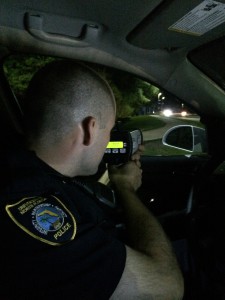 Once he determined his laser was working, Morgan was off to catch some speeders. He parked at the entrance of Lot 100 where Parking Services and UNF Eco Adventure are. He faced UNF Drive, well-hidden with his lights off, waiting to pull over the next speed racer.
Then a few minutes later, boom. Our first speeder of the night. He pulled over a Papa John's delivery driver for going 46 mph in the 35 mph zone. He ended up giving the driver a written warning.
"I don't write tickets very often," Morgan said. That's partly because it was the way he was trained at his previous place of employment, the Florida Department of Agriculture and Consumer Services.
Our next stop was the entrance of Lot 55, facing Osprey Ridge Road by the Fountains. Even though Morgan didn't pull anyone over at this site, he gave me a description of his job that caught me off guard.
"This job is 80 percent boredom, 18 percent paperwork, one percent fun and one percent sheer terror."
Dinner
At 10 p.m., it was time for dinner. We headed back to the station and ate with Officer Raymond Ross and Price. The kitchen at UNFPD is ridiculously small — just a little bit bigger than my kitchen over at the Osprey Village. The room where they ate dinner was actually a room meant for training presentations. Four or five long tables were set up throughout the room with two big, outdated TVs at the front.
As I observed the conversation at dinner for a little bit, I noticed a lot of it was police small talk. Ross and Morgan looked through a catalog and eagerly talked about new pieces of equipment that would be cool to have at UNFPD. Ross pulled out his phone to show Morgan a photo of a weed bust from another police department he saw on Facebook.
Observing this conversation was nice, because it really made me realize these guys just flat out love being cops. That made me happy, because I always love seeing people who truly love what they do.
Observing the conversation at dinner wasn't the only way I could tell Morgan loves his job. He's also a police trivia guru.
"He needs to go on a trivia show," Price said about Morgan.
She was right.
He's an encyclopedia of police knowledge. While looking at the collection of patches from different police departments and sheriff's offices from around the state and country inside the break room at the station, Morgan would point to one patch and say something like, "They disbanded two years ago," or "This is an old badge. They changed theirs a while back."
The best part of the conversation at dinner was talking about getting tased, pepper sprayed and gassed. Morgan has experienced all three. He, along with Ross, said the worst of the three by far is getting pepper sprayed. No one has ever used a Taser on Price before — a revelation that Ross wasn't too happy about.
"What? That's not fair," he joked. "I need to talk to the Chief about that!"
Dinner lasted until a few minutes before 11 p.m. That's when we headed back to the spot in Lot 100.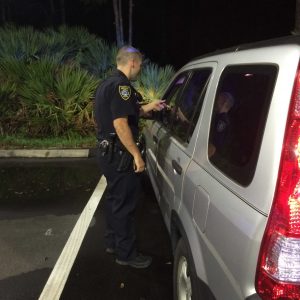 More traffic stops
Part of Morgan's responsibilities is walking through the buildings at night, making sure nobody is inside. It's called a property check. Morgan drove over to the back of the University Center at the Institute of Police Technology and Management. Sure enough nobody was inside, so we headed back to the same spot in Lot 100.
On our way, Morgan pulled someone over for having a broken headlight. He gave the driver a written warning.
After that, Morgan looked over at me and talked about the culture shock involved in moving from the Department of Agriculture to a college campus.
"At the Department of Ag., if you see someone driving around at 2:30 a.m., chances are they're up to no good," he said. "At a college campus, it's completely normal for kids to be driving around at 2:30 a.m., and they're not doing anything wrong."
Next, Morgan pulled someone over for having his headlights turned off. He let it slide with a verbal warning.
It was just past midnight at this point, and once again, Morgan pulled someone over for going 46 in a 35.
What happened next was the highlight of the night.
What's a night with UNFPD without a weed bust?
While Morgan was working on the speeder, dispatch said some police jargon over the radio I didn't understand at all. Morgan's face lit up, and he said, "Ooh we'll go to that."
"What is it?" I asked.
"Drug bust over at the Crossings," he said.
Finally! This was what I wanted to see. In the last three months, I've written countless police beats about UNFPD busting someone for having marijuana in the dorms. I gather all of that information from police reports. This was my chance to actually experience it firsthand.
When we arrived at the Crossings, Ross and Price were already there outside building S. Ross looked at Morgan and me and told us to stay outside because the room was on the first floor, and they didn't want to risk having the students go out the window.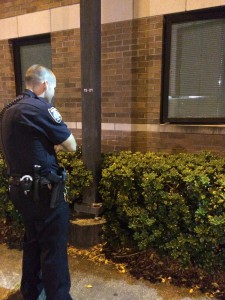 The window was partially open and one of the blinds was bent, so Morgan and I could see inside the room a little bit. We heard Ross and Price knocking on the door, and immediately the two girls inside started moving around.
Morgan kind of chuckled, because he knew from his experience that they were probably hiding something.
Ross and Price knocked at least twice more, when finally the resident opened the door. We were then given the OK to head inside.
When we entered the room, the smell of weed was overwhelming. One of the two students was now in the shower. The other student — the one who lived in the dorm — was denying having anything in the room.
After getting permission to search the room, Ross and Morgan couldn't find anything. However, a chest with a lock on it stood out to them. The officers asked if they could open the chest, but the resident wasn't cooperating.
Finally Ross said, "Look we can do this the easy way or the hard way. You can either open it now and we can get this over with, or you can not open it, and we can get a search warrant."
Price mentioned to the resident that she'd have to wait outside the room for two or three hours while they get the search warrant. That's when she allowed the officers to look in the chest.
I think I can truly and honestly say I've never seen someone as scared as the resident was. Her whole body was literally shaking as the officers searched the chest. I can't say I blame her though. I would imagine that situation would be terrifying.
Morgan and Ross found 2.4 grams of marijuana, a pipe, a grinder, rolling papers, a prescription bottle with marijuana residue and a glass jar with marijuana residue.
The resident was referred to Student Conduct.
Later in the night, while Ross was writing the police report, he told Morgan how the resident's lack of cooperation got on his nerves.
"Could've NTA'd her," Morgan said. What he meant was he could've given the resident a Notice To Appear, which is worse than just being referred to Student Conduct.
"I almost did," Ross said. "I was gettin' there."
The property room
Something I wondered before I even started as police reporter was, "What do they do with all of the drugs and drug paraphernalia?"
I found out a few days into the job that the officers have to bring it downtown to the JSO Property Room. I thought it'd be a massive warehouse full of shelves and shelves of drugs with bongs, pipes and grinders galore. Maybe I'd see some cocaine while I was there — or meth.
Nope.
To say I was disappointed with the property room would be the understatement of the century. The only area Morgan and I went into was this big open room with several computers. There was also a desk where two people worked, and all the drugs and paraphernalia went back by where they were.
Morgan had the people behind the desk bag everything up, and he had to take photos of each item and enter the information into the computer so there could be an inventory of everything.
We got done at the property room at 1:27 a.m. and arrived back on campus shortly after with the lack of traffic.
Boredom, Yik Yak and Waze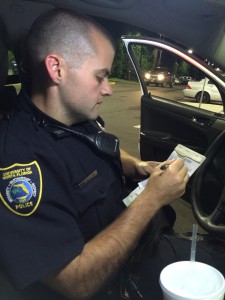 It's hard to follow up on an exciting drug bust like the one we just experienced. The rest of the night was mostly the 80 percent boredom Morgan mentioned earlier in the night.
After looking through some parking lots to make sure everything was normal, we went back to our first spot of the night, the one in Lot 100, and Morgan aimed his laser at the very few cars that drove by.
At this point, cars only went by every five minutes or so, so there was a lot of time to kill.
Morgan pulled out his phone and checked Facebook while he nibbled on some carrots. I pulled out my phone as well and after a few minutes, he looked over at me and asked, "Were you involved in the Yik Yak story?"
"No," I said while chuckling.
I chuckled for a number of reasons. For one, I thought it was funny that he even knew what Yik Yak was. That's just a reminder that students most definitely aren't the only ones who know about it. Second, I was amused that he read the Spinnaker article on Yik Yak. But the biggest reason I was chuckling was because when I looked over at him, there he was, checking Yik Yak.
The next small part of our conversation seemed just like any normal conversation I'd have with another student.
"Anything good on Yak?" I asked.
"Nah, just the same stuff as always," he said. "I always like to see when somebody talks about [UNFPD]."
Morgan then talked about another app I had never heard of called Waze, an app that allows users to submit traffic issues and say where cops are so people can be a little more cautious.
"The trick is to go on there and just say there are cops everywhere so that everyone will drive safely," Morgan said.
A UNFPD officer is also a Waze troll. Who would've thought?
Wrapping up
Around 2:50 a.m., Morgan started driving back to the station to drop me off.
I said good night to those at dispatch and Price. I gave Morgan a solid handshake, thanked him for the experience, and that was that.
At the start of the night, I had no idea what to predict, because after all, law enforcement can be very… well, unpredictable. In the end, driving around for six hours with Officer Morgan was quite the experience — one I won't soon forget.
—
For more information or news tips, contact [email protected]; if you see an error in this story or have any compliments or concerns, contact [email protected].