UNF beats the rain and App. State 3-2 in season opener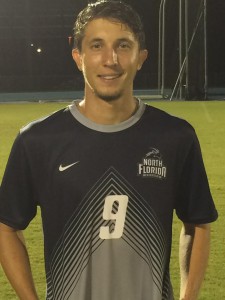 The Osprey men's soccer team defeated the Appalachian State Mountaineers 3-2 in UNF's first game of the 2015-2016 season after a rain delay on Aug. 28. All 3 UNF goals were scored in the first half.
At 27:10, UNF junior midfielder Milan Kovacs scored the first goal of the game with an assist from senior forward Alex Morrell. The Ospreys scored again at 32:59 with a shot from Morrell. Junior midfielder Jay Bolt earned the assist.
"It's always good to score a goal," Morell said. "I feel great after I score a goal."
Before the end of the half, Helge Pietschmann scored the third UNF goal at the 37:16 mark with an assist from junior defender Simen Solstad.
At the 74:32 mark, Appalachian State junior midfielder Stephen Chapman scored with an assist from junior midfielder/defender Keegan Tanaka. Chapman scored a second goal to bridge the gap against the Ospreys with 4:51 left to go in the game, but the Ospreys would hold on to finish with a win.
Morrell said he was upset after the Mountaineers cut into the Ospreys' lead.
"I was on the bench at that point. I was just mad and frustrated, I think we all were," Morrell said. "You know it happens some time. You get scored on and you have to bounce back."
UNF's Head Coach Derek Marinatos said pressure was key to the Osprey's approach to the victory.
"I think we came out and put pressure on them and we were able to mount some pressure and create goals in the first half," Marinatos said. "I thought we could have had five goals in the first half and we scored three. So that was exactly what we wanted to do."
The Ospreys (1-0) host Georgia State (0-1) in the second game of the Mike Gibbs Memorial Tournament on Aug. 30 at 5 p.m. in Hodges Stadium. Georgia State lost 2-1 to UNF's crosstown rival Jacksonville on Aug. 28.
—
For more information or news tips, contact [email protected]; if you see an error in this story, contact [email protected].