UNF men's soccer duels with the Knights, defeats UCF 2-1 in overtime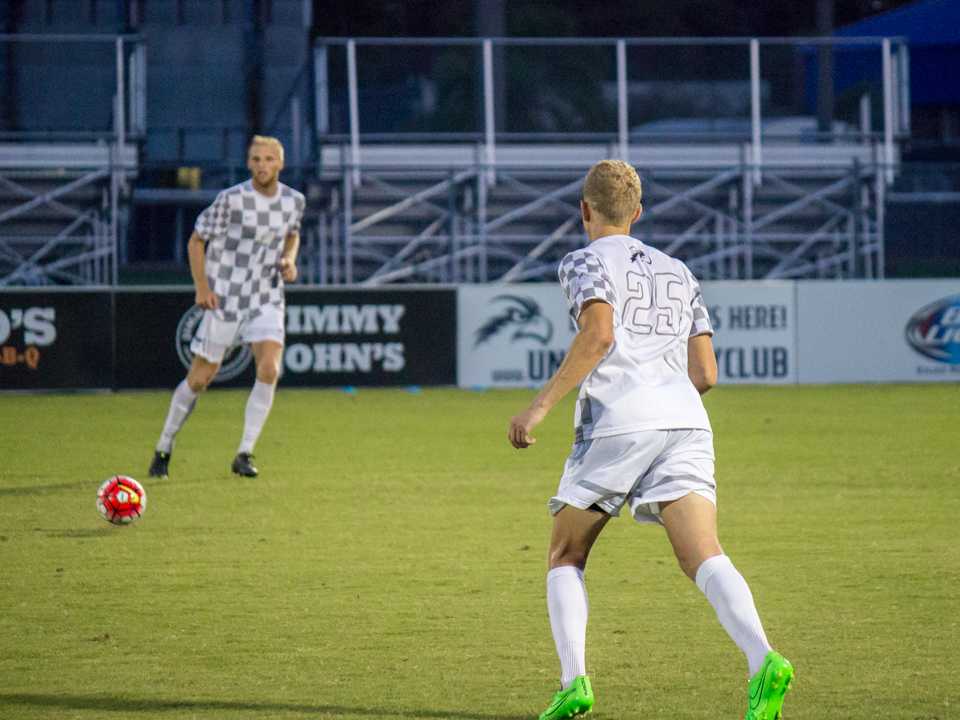 UNF men's soccer beat the UCF Knights 2-1 in extra time at Hodges Stadium on Sept. 9.
UCF (1-2) would score early with senior midfielder/forward Hadji Barry scoring his first goal of the season. Barry's goal came with an assist from sophomore midfielder/forward Matias Pyysalo.
Osprey head coach Derek Marinatos said he respected in-state rival UCF. This is the third time the Ospreys (2-3) have defeated the Knights by one goal in the last three years.
"Obviously being good enough to beat an in-state rival and someone you recruit against and respect," Marinatos said. "They are a big school and for us to beat them this year is great."
With less than three minutes left in regulation, UNF redshirt senior Casey Caronis tied up the game against the with an assist from freshman midfielder Ivan Castro.  This is the first score of the season for Caronis.
"It felt really good, honestly we were dominating the game," Caronis said. "We had one mistake in the beginning of the game early and they capitalized on it."
Caronis said the Ospreys knew they would score in the second half.
"We knew a goal was going to come in the second half," he said. "We kept pushing and sticking to the game plan coaches gave us and at the end we kind of pushed up."
In overtime, UNF junior midfielder Milan Kovacs scored his second goal of the season for the winning goal over UCF.
"It's an amazing feeling just to score but a game-winner is always a special feeling," Kovacs said. "It was a team effort. So I have to be thankful for the team too."
The Ospreys will next face No. 24 USF (2-2) in Tampa, Florida on Sept. 14 at 7 p.m.
—
For more information or news tips, contact [email protected]; if you see an error in this story, contact [email protected].