Senate appoints new SG vice president and three senators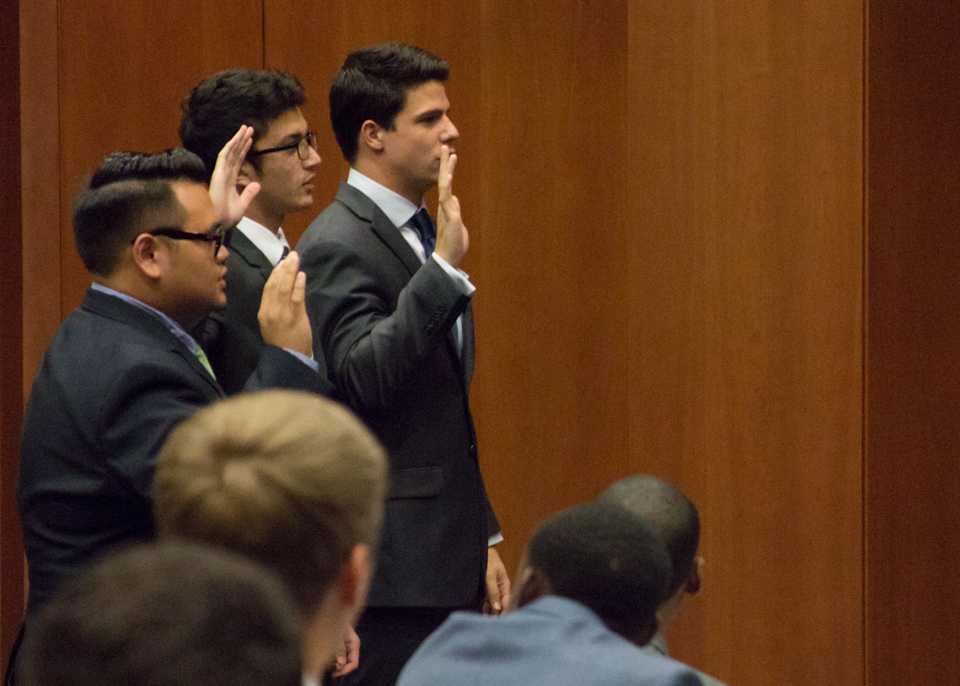 Jordan Wilson was sworn in as Student Government vice president after senators heard the VP hopeful's qualification speech on the chamber floor during the Senate meeting Sept. 14.
The new Vice President was unanimously approved by the Government Oversight Committee (GOC) on Aug. 31, and the senate's 16-0-0 vote marked the final step in the appointment process.
GOC Chair Gustavo Ascanio introduced Vice President Wilson.
"I will begin with two words," Ascanio said. "Commitment and passion. Jordan is one of those people who cares about the student body."
Senators were given the opportunity to question Wilson before taking a final vote, during which Senate Pro Tempore Caleb Grantham, Senator Christopher Jordan, and Senator Dallas Burke took the opportunity.
Senator Burke asked Wilson to describe the characteristics of a leader and to give an example of a prior leadership position which helped Wilson develop in that type of role.
"As a leader, you never quit, never give up," Wilson said. "I was the team captain on my high school volleyball team, and during my sophomore year I quit because I did not like the coach. I let down my team and myself. I have had to live with the thought of what could have been and I learned a life lesson, you have to find a way to overcome it."
Senator Jordan asked the VP hopeful how he would handle disagreements with other members of Student Government if approved for the position.
"We have already had them," Wilson said. "We just hashed them out, it makes us stronger when we have to admit the other person is right, we grow and it has helped us become better friends and coworkers."
After the vote, a smiling Wilson embraced his mother in the rear of the Senate Chamber. Wilson credited her earlier in the evening for convincing him to go to college after initially not wanting to attend.
Three new senators were also approved in the meeting. Former Club Alliance Director Justin Dato, Farouk Smith, and former St. Johns River State College SG President Glehn Von Loh were sworn in.
Smith previously worked at the Lend-a-Wing pantry, but would not elaborate on his role there. He referred to President Hailey Guerra for clarification on the topic.
"Shomari Gloster and I consolidated and restructured the director of Student Life position," Guerra said. "Smith was involved in that position."
All three senate appointees were voted in by unanimous decision. Seven other students also declared their intent to seek senate appointment earlier in the meeting.
Senators will break into committees next week on Sept. 21 beginning at 5:30 p.m.
—
For more information or news tips, or if you see an error in this story or have any compliments or concerns, contact [email protected].