Drag Kings, Queens shake their money makers for charity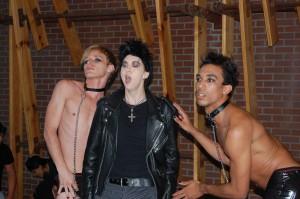 The UNF Boathouse's floors were scattered with "drag droppings" and singles April 8 as the PRIDE Club hosted the "Breaking the Silence" drag show.
Students packed the restaurant to see students perform renditions of songs by Lady GaGa, Rihanna, N*Sync and more. The show raised awareness and money for the LGBTQ community and is sending the money to the Jacksonville Area Sexual Minority Youth Network (JASMYN).
JASMYN is a resource center for homeless youth, specializing in helping the LGBTQ community. The center helps youth who are kicked out of their homes get back on their feet and provide support groups and guidance for to raise money for JASMYN, a resource center for homeless youth younger than 24 years of age. JASMYN provides HIV/AIDS testing and programs, as well.
Sania Delacruize, 32, was a former member of JASMYN and hosted the show along with two others. Delacruize said JASMYN is a godsend for young people who are part of the LGBTQ community.
"When you're young and you have nowhere else to turn, when you're family dismisses you for being gay, bi, transgender whatever the case may be, it's an outlet for them to turn to and really be themselves," Delacruize said.
Chris Fulcher, a UNF biology senior, who stirred up the crowd with "Milkshake," said the members of the club stopped counting the donations after receiving $500.
The turnout for the show was large, with many students bringing chairs from outside yet some people were left standing. Fulcher said the turnout was significantly larger than last year's drag show.
The performances were humorous and entertaining, with some performances raunchier than others. Drag queen Miss Becky worked the crowd during her rendition of Rihanna's "Rude Boy," collecting an overflowing amount of tips. Miss Becky joined a fellow PRIDE member for a rendition of Lady GaGa's "Telephone." The show included a drag king boy band, Two in the Pink, in which members performed covers of N*Sync's songs "Bye Bye Bye" and "I Want You Back."
Fulcher said he hopes to be able to promote an open environment for students to be who they are and not be ashamed of who they are.
"It's all about freedom of expression … to be in an environment where that happens, you feel so comfortable, people love you for who you are and you truly know who you are," Fulcher said. "It's a contagious feeling, and we hope to spread it more across this campus this time."