Trump rally brings large crowd to Jacksonville Landing
Video by Cole Murray

In the morning, it was quiet. The sun was just starting to really shine, and the weather was cool. The water from the St. John's River was churning just beyond the stage that was already set up with several flags and signs. People methodically moved about their business inside the Jacksonville Landing, while others queued up outside, waiting to come in. Waiting for the show. Waiting for Donald Trump.

By noon on Oct. 24, thousands had gathered at the Jacksonville Landing to see Republican frontrunner Donald Trump speak at a campaign rally.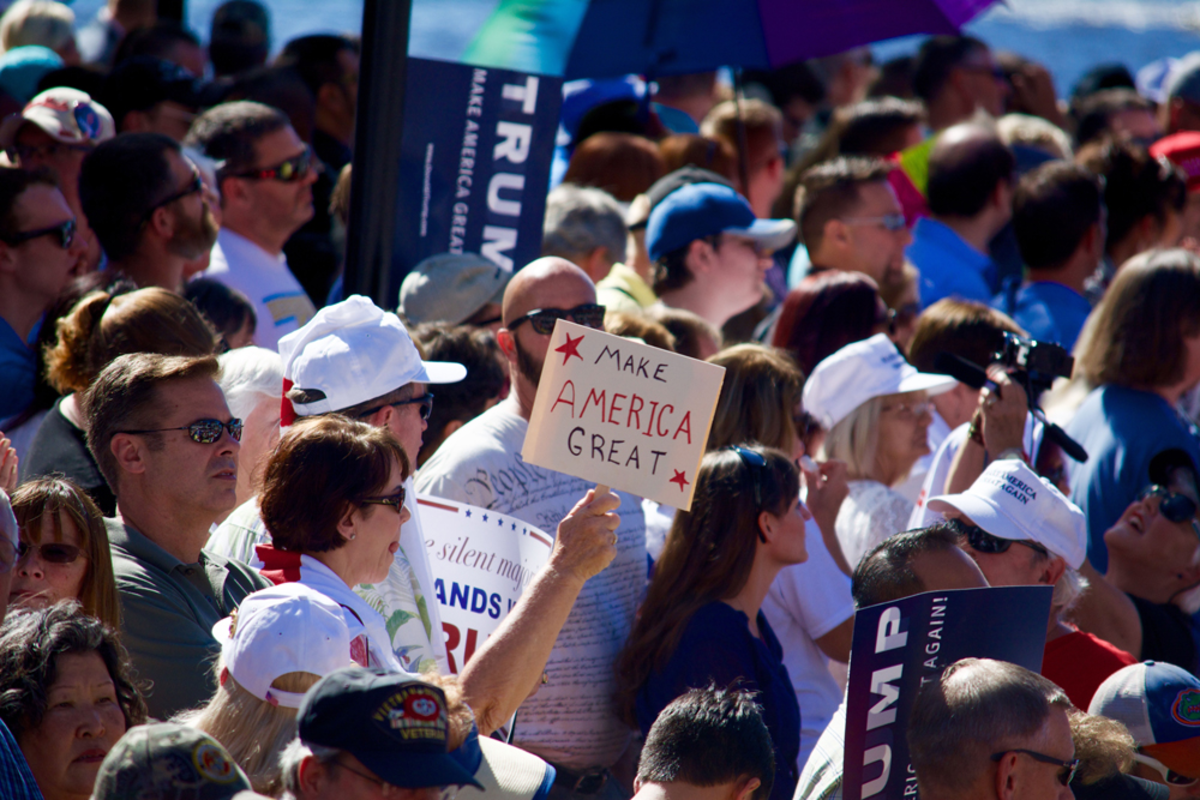 People filled the area in front of the Landing's Coca-Cola Riverfront Stage, the surrounding balconies and nearby walkways to hear Trump speak. Several UNF students and alumni joined the crowd.
Recent UNF graduate Collin Doyle attended the rally to witness the "fanfare" and "extravagance."
"This is a phenomenon," Doyle said, "and I want to witness it in person. He shot to the top overnight."
William White graduated from UNF in 1974 with a degree in education. He attended the rally because "there's something different" about Trump.
"His energy, his enthusiasm, his straightforwardness," White said. "He's saying things that for many years I actually thought. I just don't know what it is [about him]."
While supporters waited for Trump to arrive from inside, protesters gathered on the outside, holding signs asking passersby to "Dump the Trump," or telling them "A vote for Trump is a vote for racism."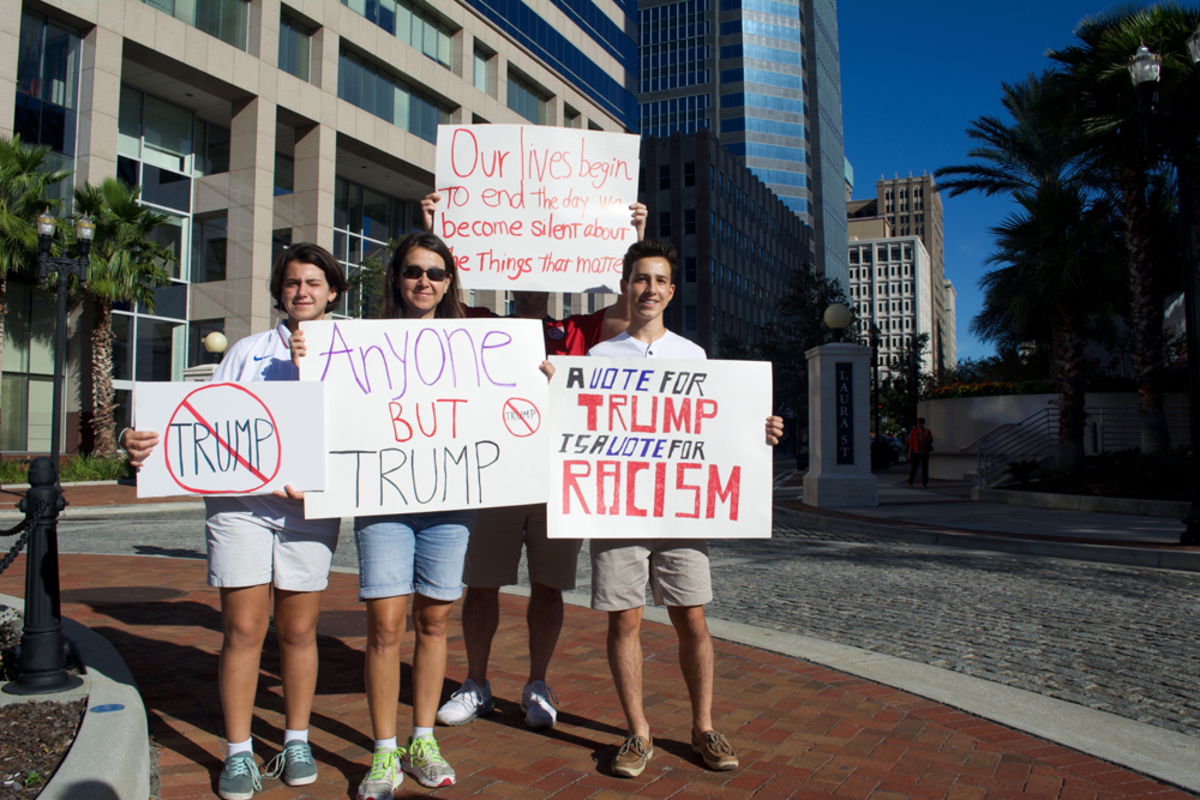 Ana Duarte, an immigrant, was there with her family, including her 12- and 14-year-old children. She said that she wanted to teach her kids that it's important to speak out.
"You can't just be quiet," she said. "You can't just let evil win."
While a few people held signs against Trump outside the Landing, crowds inside waited eagerly for his arrival.
About 20 minutes after noon, Trump walked on stage to the tune of "We're Not Gonna Take It" by Twisted Sister and the crowd went wild.
He walked to all corners of the stage, and started by telling the crowd how much he loves Jacksonville.
"I had a casino boat built here, it did great, we sold it, made a lot of money—so I love Jacksonville!"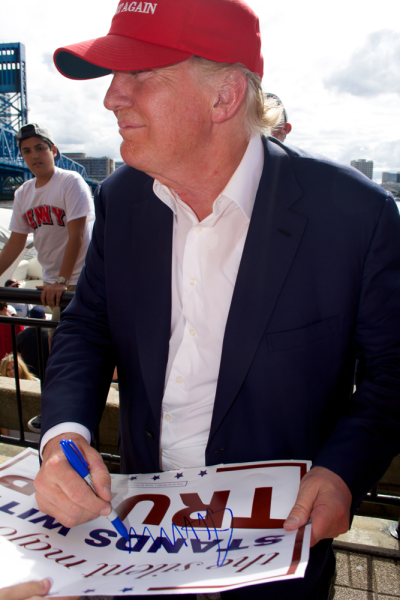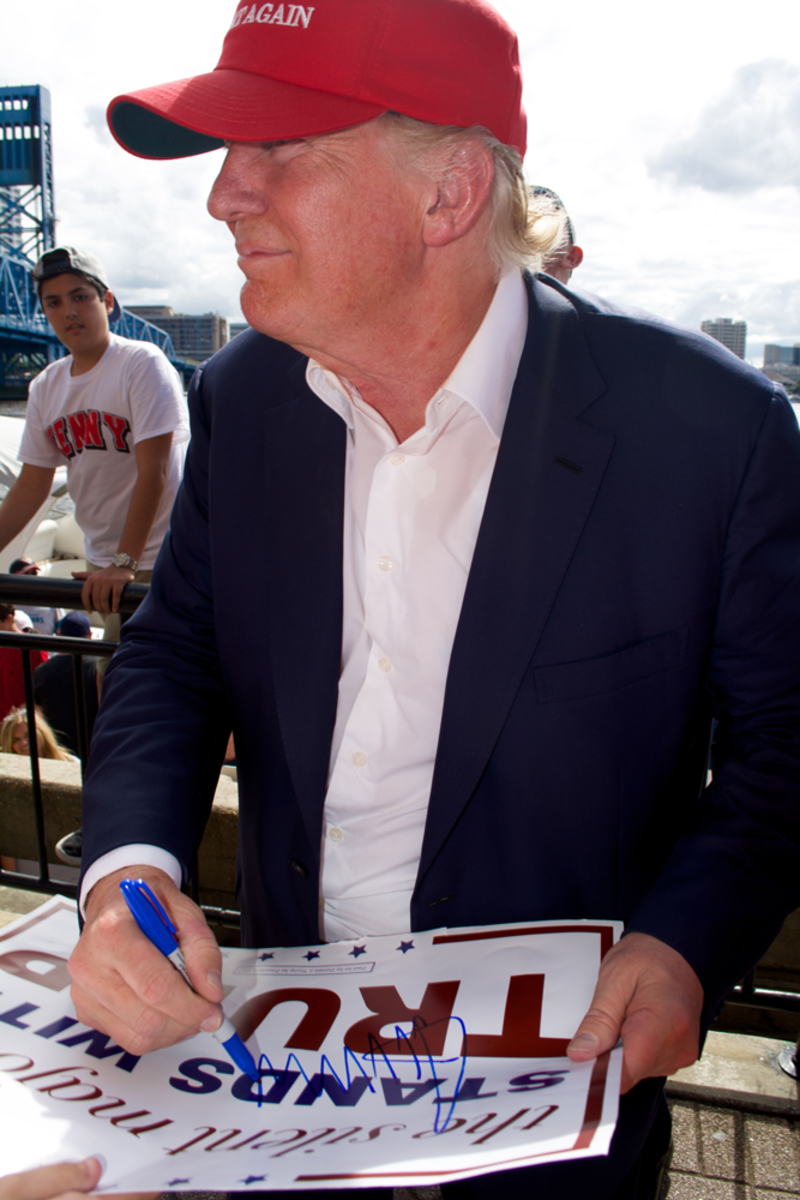 Trump spoke for over an hour about his poll numbers, the media coverage of his campaign, his plans to repeal Obamacare, his plans to build a wall to keep Mexican immigrants out of the country, the need to keep businesses in the country and his competitors, among other things.
"The American dream is back," Trump said. "We're going to bring it back, bigger, better, stronger than ever before. And we're going to make America great again."
While Trump's speech seemed to veer off course at times, he alleged that this gave him more credibility than other candidates.
"If you're running for president you shouldn't be allowed to use teleprompters," Trump joked.
Throughout Trump's speech, several audience members collapsed from the heat. At one point, Trump paused what he was saying to ensure that an attendee in his line of sight was being helped.
Despite the day's heat and the length of Trump's speech, the crowd was certainly still in high spirits as his time on stage came to a close.
"We're going to make our country great again," Trump ended with his campaign slogan. He paused for a few moments as the crowd cheered, and began his descent from the stage.
He took a few minutes to sign autographs for fans, though he was tight-lipped. During that time, Spinnaker came face-to-face with Trump on several occasions, and asked him repeatedly what he would do for college students if he was elected president. Each time the question was posed, Trump didn't comment. He continued to sign autographs and smile.
Spinnaker tried multiple times to reach Trump and his campaign in the week leading up to the rally via Twitter and email, and received no response.
As Trump made his way out, the Landing was emptied. A few forgotten signs were left on the ground, and people slowly made their way back to their cars. It was quiet again.
—
For more information or news tips, or if you see an error in this story or have any compliments or concerns, contact [email protected].