The quaint, self-sustaining Ogier Gardens and the students who run it
[youtube http://www.youtube.com/watch?v=xBILnNFm8-k]                                                                          Video by Michael Herrera
For many UNF students, a journey beyond lot 18 happens once in a blue moon. But just beyond the flat, desert-like parking area lies an oasis, one that is maintained by students for students.

That oasis is the Frederick C. and Ophelia Tate Ogier Gardens, an on-campus organization that fosters healthy eating and positive mental health through their hands-on study and appreciation of permaculture at UNF.

Permaculture, as defined by Merriam-Webster's dictionary, is an agricultural system or method that seeks to integrate human activity with natural surroundings to create highly efficient, self-sustaining ecosystems.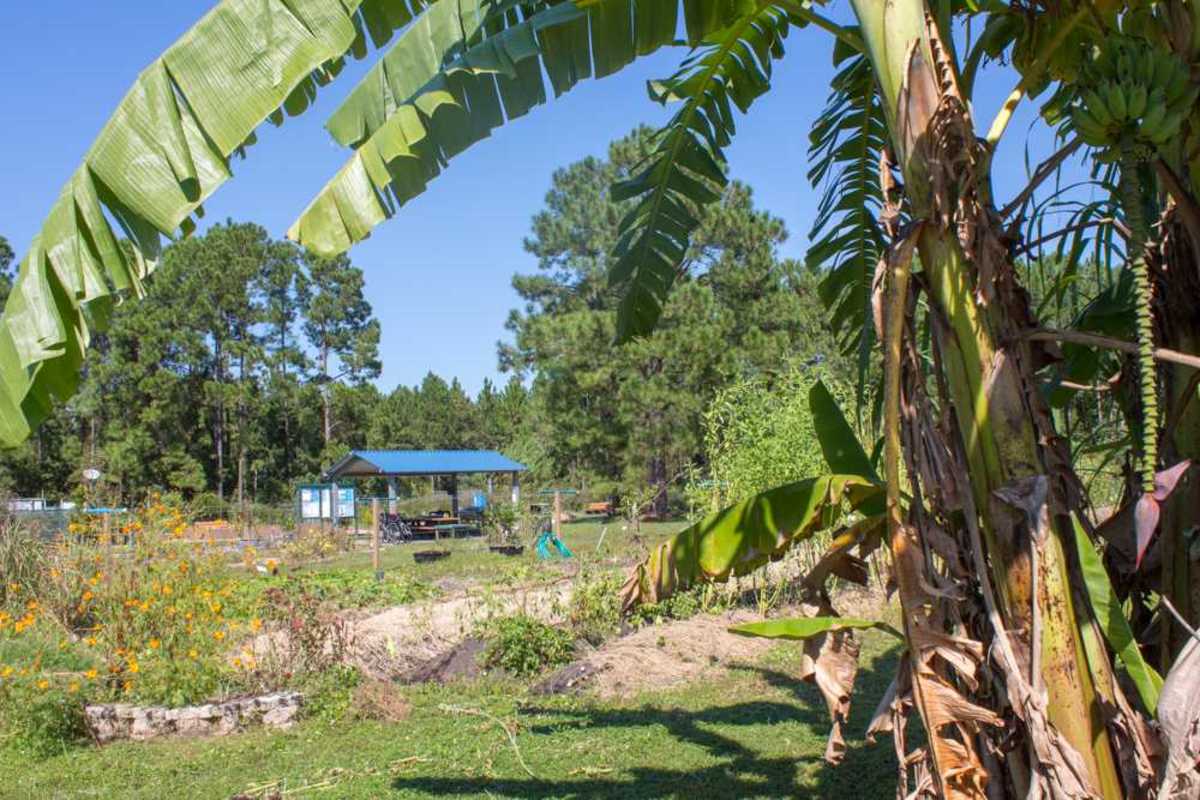 UNF's Health Promotion Department officially established the garden in 2009 after receiving a donation from alum Bruce Ogier, who named the garden after his parents.
The garden is completely organic, meaning that among other things, they grow seasonal crops, are completely pesticide/herbicide-free and sustainable. The people who actively work to preserve the au-natural farming techniques on campus are more than happy to share the crops that are grown right in UNF's backyard.
In fact, in 2012, the garden teamed up with Chartwells Dining Services to bring seasonal, organic and often exotic fruits and vegetables straight to the Osprey Cafe for student consumption. UNF is one of the only universities in the state to grow food on campus that is distributed to the student body through their primary food supplier.
But running this large, bountiful garden that has a steady demand with maximum output isn't a walk in the park, especially without appropriate infrastructure.
While there is a pavilion with running water and a shed with access to electricity, there is still one vital, but absent, structure for the garden to utilize.
That's about to change. The most recent large-scale project that has come up for garden staff is the construction of a state-of-the-art 23'x24' greenhouse right in the center of the garden. The greenhouse, projected to be completed by the end of October, will utilize an irrigation system, thermostats, a series of fans and automatic vents to establish an ideal environment for continuous, quantifiable plant growth.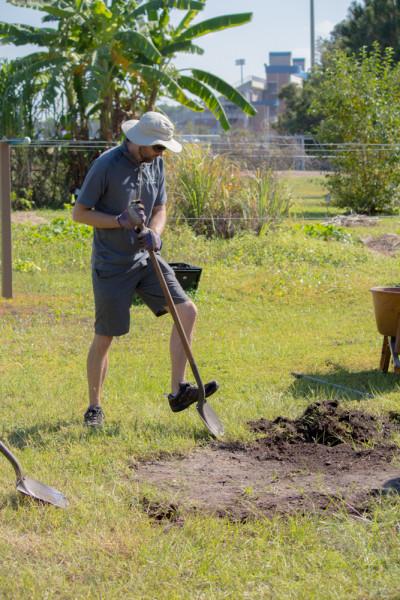 Originally, the plan was to build a high tunnel structure, which is essentially a transparent hut made for growing plants that are still in the ground. However, shortly after Kevin Anderson, a member of the Food Service Advisory Council on campus, became the primary coordinator of the Ogier Gardens, that plan was revised.
"I recognized that the high tunnel was inadequate for what we were trying to do," Anderson said. "We were more interested in growing things in trays, seedlings in particular. I made up an itemized list on why we needed a greenhouse."
The main reason that Anderson spearheaded the effort to build a greenhouse was simply to control the conditions of the seedlings in a way that the high tunnel would not allow.
"A lot of crops take maybe 120 or more days, and that's beyond the scope of a school semester," Anderson said. "It's really about timing. And weather is a key variable that makes everything complicated when you don't have a greenhouse."
While this project is coming to its fruition, the Osprey gardeners aren't halting their normal community-focused nature activities. For example, the garden routinely hosts tours every Friday (weather-permitting) at 9 a.m.
Garden staff have also organized monthly workshops that highlight the ins and outs of agroecology. Some workshops that are offered include Tea At Three, where students can learn how to dry and brew herbal teas; Compost 101, a lesson in how to develop and maintain home composting systems; and Good Bug/Bad Bug, where students are informed of the difference between garden pests and aides.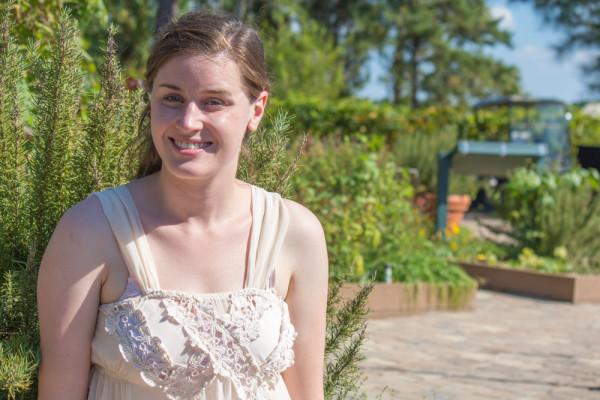 One workshop that I had the pleasure of sitting in on was a Lepidopteran presentation led by volunteer Kate DeJong, a biology student.
But what exactly is a Lepidopteran? Simply put, a Lepidopteran is a butterfly or a moth.
DeJong has been highly interested in the insects since she was a young child. Her father, an outdoors man himself, ignited her 7-year-old zeal when he got her a butterfly startup kit and a gang of caterpillars.
"You know when you're a kid and your parents kind of pair things up with you?" she asked. "I always had the butterfly stuff."
In conjunction with her parents directing her toward nature, DeJong has done her fair share of traveling. She has been exposed to some exotic animals, including the blue morpho butterfly, penguins and sloths. Among her travels, she trekked around Cape Horn at 12-years-old and also lived in Panama as a junior in high school.
These experiences, DeJong explained to me over some adorable and delicious butterfly-shaped cookies, expanded her worldview and boosted her passion for nature. She has given the butterfly presentation once every semester for the past three years.
Additionally, Ogier Gardens offers an opportunity to take part in their "Adopt-A-Bed" program. This is a part of the garden's locavore efforts, honing in on the growing trend of farm-to-table eating habits.
This program offers students an interactive glimpse into the world of agroecology. Three or four students can sign up to rent a garden plot for a whole semester, with the seeds, fertilizer, soil and advice provided by the green-thumbed garden staff.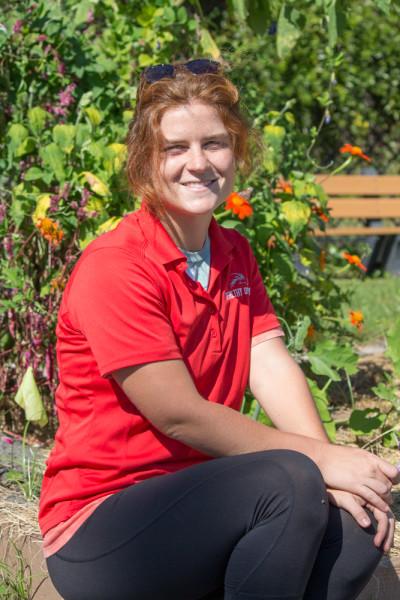 Mallory Schott, Ogier Gardens' student engagement liaison, is one of the horticulturists who gets particularly excited about the Adopt-A-Bed program.
"It's a crash course in how to garden, a trial-and-error method," Schott said. "You really get out of it what you put into it."
Schott, involved with the garden since 2012, is one of nine paid staff members. She spends around 20 hours a week fertilizing soil or planting seeds or picking fruit. 
As well as paid positions, Ogier Gardens is constantly looking for volunteers. Volunteers who put in a little bit of elbow grease and help out around the garden are able to take home food at the end of every shift.
As October approaches its autumn conclusion, Ogier Gardens will be preparing for their yearly Harvest Festival on Nov. 18 at the Coxwell Amphitheater.
—
For more information or news tips, or if you see an error in this story or have any compliments or concerns, contact features@unfspinnaker.com.