Admins vs. Professors: Why UNF has more professors than administrators
Video by Brittany Moore

This article originally appeared in the Winter 2015 issue of Spinnaker Magazine, available now on campus. 

When you walk into the university president's office, the lights are dim. Your feet sink in its luxurious carpet and you're asked to sit on a plush leather sofa while you wait. Your eyes catch the artwork hanging in heavy frames, shiny desks made of dark wood and it may leave you wondering where this place came from.
Compared to most professors' small offices with paint-chipped walls and uncomfortable looking chairs, the president's office in J.J. Daniel Hall could belong to a different campus.
With growing concern that colleges are run more like luxury resorts, according to The New York Times, or businesses, according to The Guardian, than educational institutions, schools across the country are coming under scrutiny for all kinds of questionable decisions. This, in addition to students struggling with debt, may lead them to question their university's priorities.
One priority to consider is the ratio of management positions – vice presidents and other executives – to teaching positions at a college.
But according to data by the U.S. Department of Education's National Center for Education Statistics, public universities in Florida tend to have more instructional staff than management. UNF in particular had 768 instructional staff members in fall 2013, and only 313 people in management.
Take, for example, Vice President and Chief of Staff Dr. Thomas Serwatka. He's been with UNF for 40 years, as a professor for 32 years and an administrator for 18.
"I'm not surprised that there's that sort of balance based on the fact that obviously the centerpiece of what we're doing is providing education," Serwatka said. "We should be putting our dollars, as many as possible, into the classroom."
Serwatka credits professors with creating a better quality education, and cites UNF's small class sizes as something that helps foster connections between faculty and students.
"You don't need administrators at the same ratio, by any means, as you have faculty. It's clear that faculty operate and run the university, and are in charge of the curriculum, and are in charge of providing the quality of the education the students are getting," Serwatka said.
Students name education as the primary purpose of college as well.
"They go hand in hand," Madison Barrow said of professors and administrators. "You obviously need the professors, but you obviously need the behind the scenes kind of thing. So I don't think that you can't have one and not the other."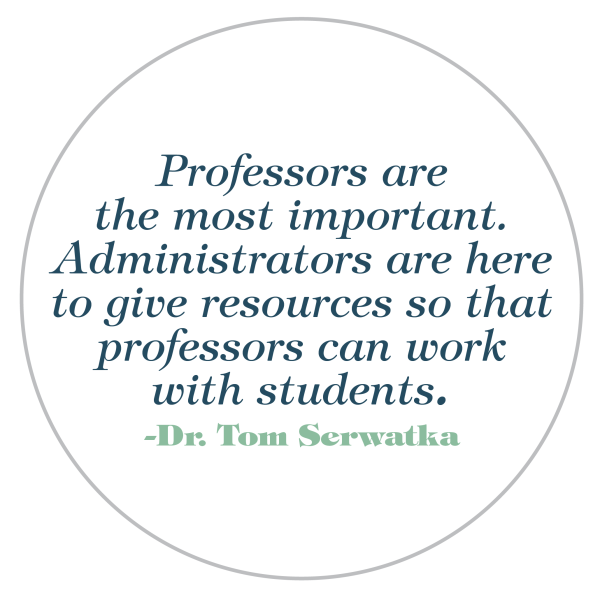 No matter the numbers of administrators, Serwatka said, at a university, professors are the most important.
"Administrators are here to give resources so that professors can work with students," he said.
Serwatka said he still remembers his time in school when a professor made a difference in his life. He was struggling with statistics, but thanks to his professor, his distaste for math turned into seven math classes with the same professor and turned him into a tutor for other students.
"And it wasn't an administrator that made that happen," Serwatka said.
Spinnaker was unable to find professors that were willing to speak about the balance of faculty in a university system. If any professors would like to speak on the subject, Spinnaker would be happy to update this story online with their perspective.
—
For more information or news tips, or if you see an error in this story or have any compliments or concerns, contact newsroomeditor@unfspinnaker.com.