UNF says good-bye to Blackboard
University of North Florida is switching from using Blackboard as its online services tool and moving to Canvas.
Canvas advertises itself as "an educational revolution", according to its website. The software allows users to integrate apps such as Dropbox, Google Drive, WordPress, Twitter and hundreds more. Canvas also has a mobile app that operates similar to a social network app such as Facebook.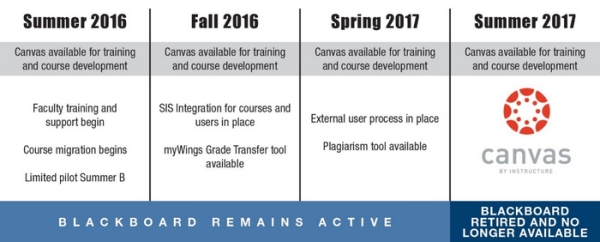 UNF will begin transitioning to Canvas summer 2016. The plan is to completely retire Blackboard by summer 2017.
Over 1600 universities, schools and workplaces use Canvas for their educational needs, including the University of Central Florida. Spinnaker spoke with UCF political science senior Nathaniel Holt who said, "I prefer Canvas to Blackboard or Angel (UCF's program before Canvas). It's easy to use and it's not down frequently."
The company also offers online educational courses through its Canvas Network. These courses range from a $75 global business communication certificate class through Georgia Tech, to a free permaculture design class at Oregon State, and many more.
Although the company prides itself on groundbreaking educational efficiency, what does this mean beyond the promo video and in our everyday lives?
Canvas offers users a two-week trial to experience the software from either a student or teacher prospective.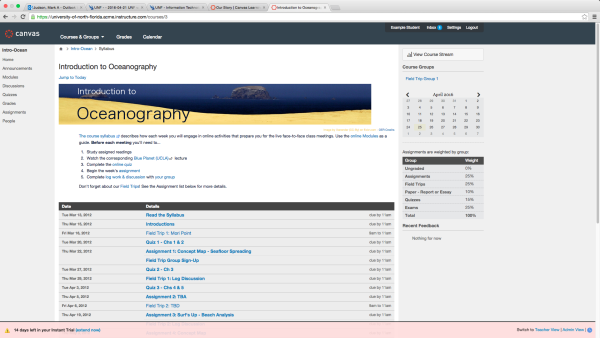 Over the next two weeks Spinnaker will be participating in Canvas' trial from a student's perspective. We've enrolled in UCLA's Introduction to Oceanography, one of the four student example courses. We'll be exploring the software and offering readers a first-hand look at what this new program is really like.
Spinnaker called UNF Information Technology Services (ITS) but supervisors were not available for comment and the call was not returned by press time.
—
For more information or news tips, or if you see an error in this story or have any compliments or concerns, contact[email protected].