Lot 53 is getting a facelift; will be partially inaccessible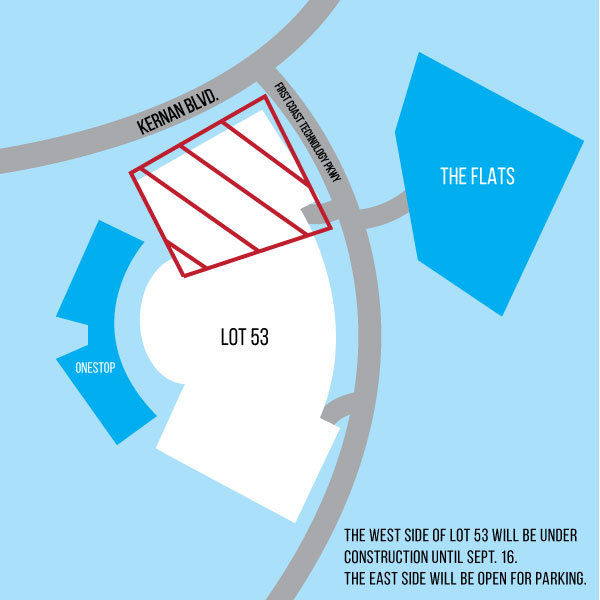 Lot 53 will be under construction starting Monday, Aug. 1. Half of the lot will be inaccessible to park in, but the other half will remain open.
Starting at 7 a.m., the west/main entrance to the parking lot, across from the Flats, will be inaccessible until Sept. 16, according to an Osprey Update. During this time, those wishing to park in Lot 53 must use the east/second entrance to Lot 53 and park within the open lot section.
The parking spaces nearest the shuttle stop will also be inaccessible, the update stated, but the stop will be accessible via the sidewalk.
According to lot counts conducted by Parking Services in Spring 2016, about 200 people park in Lot 53 on a Monday morning. However, during summer term, fewer people use the lot, and the number of people parking there varies depending on the day and time.
There are 1,119 parking spaces in Lot 53.
The project is scheduled in two phases, each lasting 45 days. The second phase will begin after September 16, and different parking spaces will be inaccessible at that time.
—
For more information or news tips, or if you see an error in this story or have any compliments or concerns, contact [email protected].