USMNT descends on Hodges RD
The U.S men's national team attempted to emulate sweltering Carribean conditions by practicing at Hodges stadium for its world cup qualifier against St. Vincent and Grenadines, a tiny pocket of islands that hover about 900 miles north of the equator.
The light training sessions Monday and Tuesday welcomed players back to the international fold for the first time since a fourth-place Copa America finish in July.
While the national team practiced, a handful of UNF soccer players sat on the bleachers and watched in awe.
"It's crazy to see them on our field," said redshirt junior defender Jenna Steininger.
"It's really cool, we're just casually walking beside them in the tunnel," said Brooke Linen, a sophomore who splits time between defense and midfield.
UNF men's soccer coach Derek Marinatos said it was a privilege to be the practice ground for the team while they visit Jacksonville, and the presence of the national team was beneficial for UNF soccer players.
"To have [the U.S men's national team] come back again and be a training home for them and have them come to Jacksonville is awesome," Marinatos said. "It's great for[the UNF soccer players] to see as well, to see how the professional environment is. It's sets an example and it's great for UNF."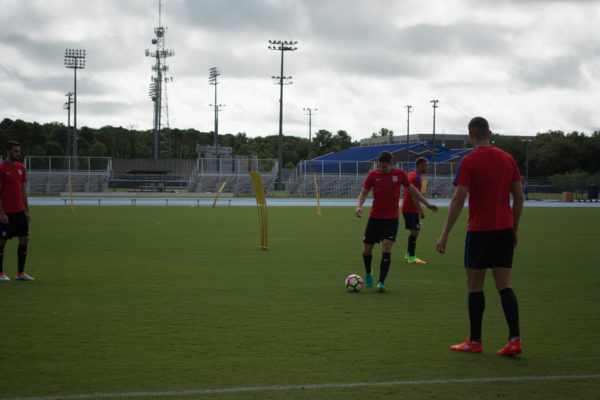 In the stands, UNF student Daniel Clayton wore the current rendition of the national team jersey. He was excited by striker Jozy Altidore's return from injury and promising young players like Christian Pulsilic and Bobby Wood, who are making their names in Europe.
"They came here two years ago and I saw them," Clayton said. "I missed them yesterday [Monday] so I thought I'd swing by before class and check out the top players in the country."
UNF soccer alum Mark Cagnassola picked up 13 goals and 21 assists in a 66-game career with the Ospreys from 1991-1995.
As Cagnassola watched the team practice, he predicted a blowout for the U.S, but he did have reasons for caution against St. Vincent and Grenadines,
"It's going to be in the afternoon, it's going to be hot. It's in a little country and I'm sure  [the crowd is] going to be crazy," he said.
The Americans' one point advantage over Guatemala puts them in second place in the group, good enough to move into the next round of qualifying. and  This potentially set up a final match against group-leader Trinidad and Tobago at Everbank Field Tuesday Sep. 6.
The team left Jacksonville Wednesday morning for St. Vincent and Grenadines, where they play Sept. 2.
—
For more information or news tips, or if you see an error in this story or have any compliments or concerns, contact [email protected].