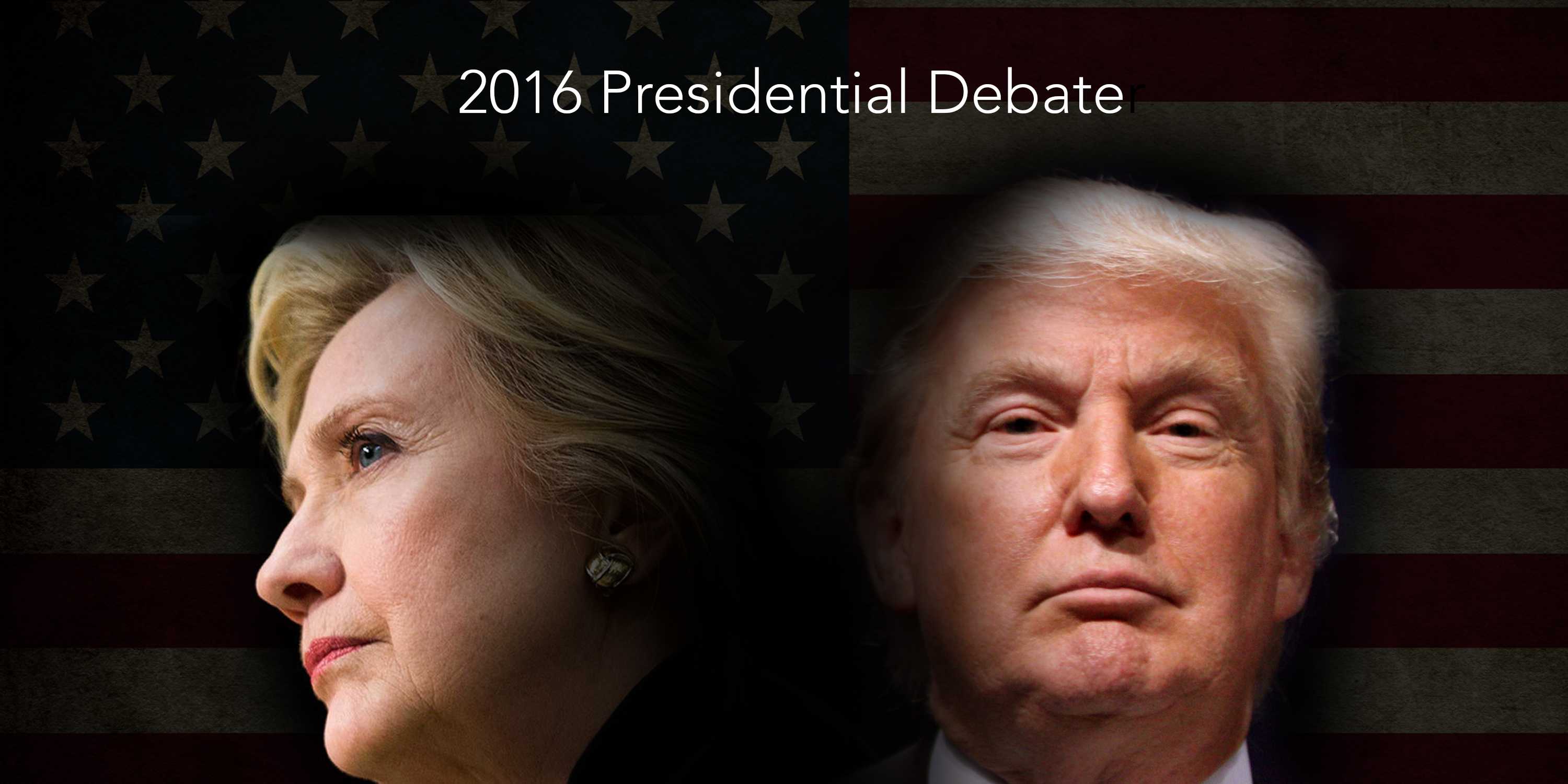 It was a back and forth slugfest Monday night, when Hillary Clinton and Donald Trump traded blows at Hofstra University in the first of three presidential debates.
What stood out
In the year's most highly anticipated political event, Donald Trump and Hillary Clinton duked it out for 90 minutes over what's best for America. The debate opened with Trump and Clinton laying out their near-opposite economic plans. Clinton made her pitch for tax cuts on the rich, a higher middle wage and paid family leave, while Trump insisted he would give companies a 20 percent tax cut, the largest since Reagan, and bring jobs back from overseas.
It didn't take long for Trump's tax returns, or lack thereof, to be brought up. When asked about it, Trump said "it will be released as soon as the audit is complete." Trump went on to promise the release of his taxes as soon as Clinton releases the 33,000 deleted emails.
During a discussion on race, Trump repeatedly advocated for the usefulness of stop and frisk tactics, citing the thousands of killings in Chicago and the rising murder rate in New York. Clinton advocated for police reform, saying young African-American males who commit the same crime as young white males are more likely to be arrested and incarcerated.
When it got personal
After Trump called the Iran Deal the worst deal in American history and claimed Clinton's experience is bad experience the country can't afford, Clinton went on the offensive: "This is the man who has called women pigs, slobs and dogs, and someone who has said pregnancy is an inconvenience to employers," she said. Further, Clinton said Trump called a woman in a beauty pageant "Miss Piggy," and called her "Miss Housekeeping" because she's Latino.
Trump's best argument
Trump started off well, showing respect for Clinton before laying out an economic plan that would appeal to Republicans. He drew upon Reagan's legacy by mentioning his name several times, and stuck to a central theme of bringing jobs back to America. His background as a successful business mogul gave him the credibility and knowledge to make substantive arguments for a deregulated economy with massive tax cuts.
Clinton's best argument
Clinton made a resonating argument about Trump's temperament in regards to nuclear weapons. She talked about Trump's previous statements, where he said he didn't care if other countries had nuclear weapons, and noted that his beliefs were the opposite of America's philosophy. "His cavalier attitude about nuclear weapons is so deeply troubling, that is the number one threat we face in the world," she went on to say.
Lester Holt's grade
If this debate weren't televised, you wouldn't realize Lester Holt was attending. Holt let the candidates expand on points and talk well-beyond their allotted time. He did push back on a couple of Trump's arguments, but for the most part, he was a spectator. Give Holt credit, however, for not letting the debate turn into a circus and for letting the candidates speak to America, as the record-setting audience didn't tune in to hear him talk.
Grade: B-
Five juiciest quotes
"A man who can be provoked by a tweet, should not have his fingers anywhere near the nuclear codes." – Clinton

"I'll take the [endorsement] of the admirals and I'll take the generals any day over the political hacks." – Trump

"It's like his plan to defeat ISIS. He says it's a secret plan, but, the only secret is that he has no plan." – Clinton

"Now you're talking about taking out ISIS, but you were there and you were secretary of state when it was a little infant, now it's in over 30 countries and you're going to stop them? I don't think so." – Trump

"Remember, Donald started his career back in 1973, being sued by the Justice Department for racial discrimination, because he would not rent apartments in one of his developments to African-Americans." – Clinton
POLL: Who won tonight's debate? #debates #debatenight

— UNF Spinnaker (@UNFspinnaker) September 27, 2016
By the numbers
Here's your drinking game scorecard for words used:
ISIS – 20
Emails – 5
Russia – 5
Wrong! – 4
Tax returns – 3
Make America great again – 2
Bigly – 1
Next debate
The next debate will be between vice presidential candidates Tuesday, Oct. 4 at Longwood University in Virginia. The second presidential debate will be Sunday, Oct. 9 at Washington University in St. Louis.
The Spinnaker will be livestreaming on the website and providing live coverage through social media.
—
For more information or news tips, or if you see an error in this story or have any compliments or concerns, contact [email protected].