No replacement for canceled Ludacris concert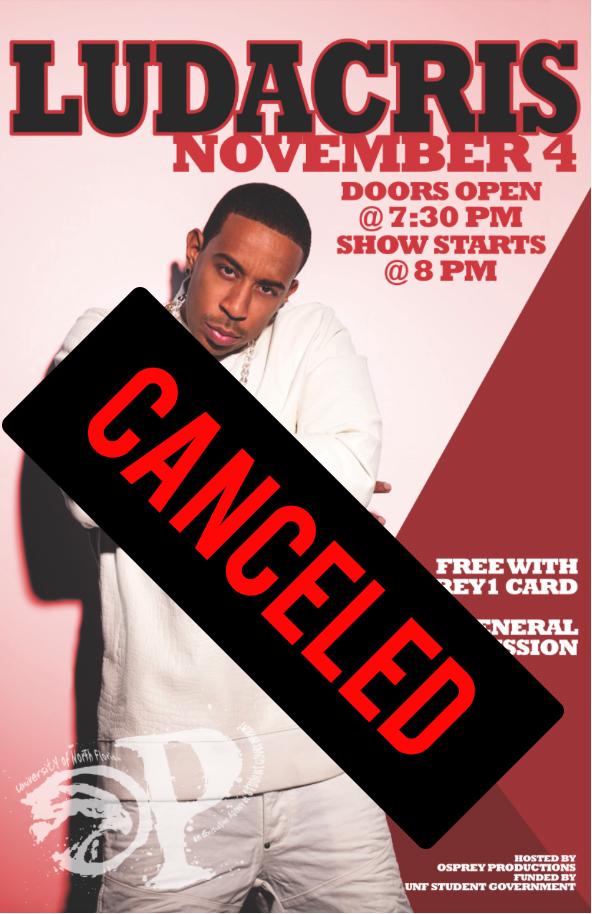 The fall concert is canceled indefinitely.
Osprey Productions announced Friday that the headliner, Ludacris, would be unable to perform Nov. 4. It's now too late into the semester to reschedule with another artist.
Ludacris' management had vetted the date, but the rapper was forced to choose between the UNF concert and filming, according to Junine Castin, director of Osprey Productions.
"His management vetted the date. He accepted it. Everything was cleared," Castin said.
Castin said OP— which found out about the cancellation Oct. 20— hadn't payed Ludacris the $80,000 the show was going to cost, but they also didn't have enough time to set up a replacement this semester.
She said there is a lengthy process for things like finalizing contracts and securing a venue or the artist's contract riders. The booking process involves OP's agent, the artist, and the university, and is designed to make sure the artist is safe to perform on campus.
Before booking Ludacris, OP considered bringing Jason Derulo, Fetty Wap and T.I, but were unable to book a show with any of these artists, all due to extenuating circumstances.
"It's easy to put yourself in student's shoes. They try to go to a Rodney Atkins concert and it's canceled. They try to go to a Ludacris concert and it's canceled," Castin said. "The frustration is there."
"I was interested, I really wanted to go. He's huge. I grew up listening to him," said Kori Channelle, a junior chemistry major.
"I'm upset, it was something to do," said Jillian Kirn, a freshman sociology major.
Kirn said holding out for a bigger concert in the spring would be worth the sacrifice because she didn't know a lot about Ludacris.
"I don't really care about Ludacris, I only know him from that Justin Bieber song," Kirn said.
Calvin Ortiz is a freshman business management major who was disappointed with the cancellation.
"If they replaced him it would be like it never had happened. [For the Spring] They need a really big name like Lil Uzi Vert or Chance the Rapper," Ortiz said.
This is the second cancellation OP has had this fall, making for an unfortunate concert season. At the beginning of the semester, the Rodney Atkins concert was canceled after one song due to lightning.
"It's been a huge test. It's frustrating when you are planning to have fun and it doesn't happen and there's not many people you can blame except one organization. We understand the frustration," Castin continued, "there's nothing we can do except move forward and do better."
When asked if OP would stage a larger spring concert, Castin said she had "big plans" and "it will be a show worth going to," but nothing is concrete quite yet.
—
For more information or news tips, or if you see an error in this story or have any compliments or concerns, contact [email protected].