Clinton concedes, tells young voters to keep fighting for what's right
Hillary Clinton conceded the 2016 presidential election to Donald Trump just before noon Nov. 9. Her speech encouraged young voters and women to continue to fight for what is right, and encouraged all to move forward with a clear head.
She began, though, by apologizing.
"I'm sorry we did not win this election," Clinton said from New York. "I know how disappointed you feel because I feel it too."
Clinton went on to say that Americans must accept this result, and that the country has always valued a peaceful transition of power. She also said that democracy "enshrines" rule of law, equality, worship and expression.
"We respect and cherish these values too, and we must defend them," she said.
From there, Clinton spoke directly to young voters about her own wins and losses.
"You will have successes and setbacks too," she told young people. "But please never stop believing that fighting for what's right is worth it."
Clinton then thanked women for supporting her, and again spoke directly to young girls watching:
"Never doubt that you are valuable, and powerful, and deserving of every chance an opportunity in the world to pursue and achieve your own dreams," she said.
At the end of her short speech, Clinton told Americans that there's more to do in the coming weeks and years.
"Let us not grow weary, let us not lose heart, for there are more seasons to come and there is more work to do," she said.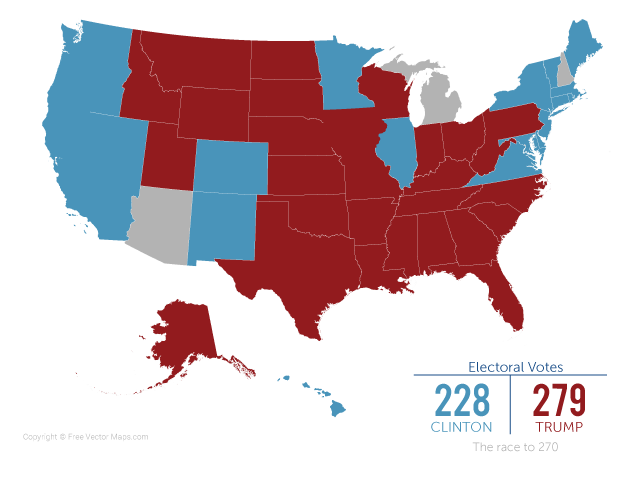 Clinton did not speak on the night of the election. Around 2 a.m. the morning of Nov. 9, Clinton campaign chairman John Podesta came out and said she would not speak that evening. Donald Trump, however, did speak last night from his campaign headquarters, and touched on similar subjects.
His speech, made around 3 a.m. on the morning of Nov. 9, focused on bringing Americans together despite party lines, and getting to work.
"To all Republicans and Democrats and independents across this nation, I say it is time for us to come together as one united people," Trump said. "For those who have chosen not to support me in the past, of which there were a few people, I'm reaching out to you for your guidance and your help, so we can work together and unify our great country."
Trump spoke about rebuilding the nation's infrastructure, creating more jobs and "embarking upon a project of remarkable growth and renewal."
Overall, Trump, like Clinton, encouraged Americans to focus on the future.
"I can only say that while the campaign is over, our work on this movement is now really just beginning," Trump said. "We're going to get to work immediately for the American people, and we're going to be doing a job that hopefully you'll be so proud of your president."
—
For more information or news tips, or if you see an error in this story or have any compliments or concerns, contact [email protected].