The Week Ahead: January 30 – February 3

Monday, Jan. 30
HIV Testing
The UNF LGBT Center will be hosting an event where people can get tested for HIV and find out their status the same day.
When: 4:00-6:00 p.m.
Where: Student Union Building 58E room 1111
Fitness Classes
Where: Student Wellness Complex
Relaxing Yoga- Noon
Booty Blast-5:00 p.m.
Hip Hop Fitness 7:00 p.m.  
Tuesday, Jan. 31
Karaoke Night
This isn't your average karaoke participants can take on rap, R&B and trap songs.
When: 7-11 p.m.
Where: SU 2704 Union Auditorium
Project Trio
Project Trio will be featured in a master class hosted by UNF's School of Music.
When: 7:30 p.m.
Where: Fine Arts Center Recital Hall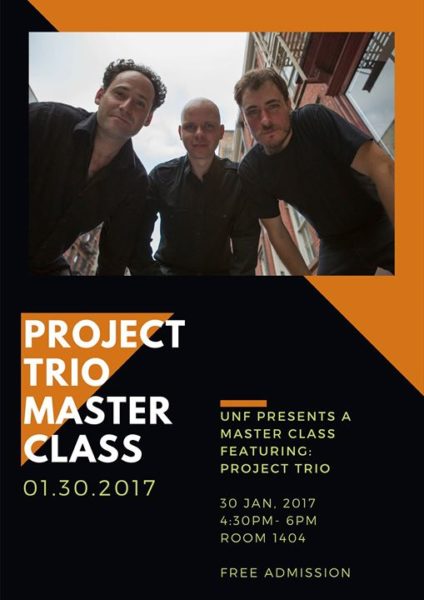 Wednesday, Feb. 1
In an effort to get the Ospreys moving and more involved, students will track their movement in this eight week program. Track your movement on the pacer app for a chance to win prizes like Nike gear, a Fitbit and more. You get a free T-shirt just for participating in the event.
Where: Healthy Hut at market day or building 61 suite 1300
OP Movie Night" Moana
Osprey Productions will be hosting a movie night featuring the Disney Movie Moana.
When: 7:00-8:53 p.m.
Where: Student Union 2704 Union Auditorium
Thursday, Feb. 2
Madden 17
Are you a great Madden player? Show your skills at the competition hosted by the Game Room and Boathouse.
When: 6-10 p.m.
Where: Student Union 2600 Boathouse
Nestflix Presents: 13th, A Documentary
This documentary will take an in-depth look into the 13th amendment, which outlawed slavery.  After the film there will be a facilitated conversation talking about it's content.
When :6:15 PM – 9:00 PM
Where: SU Building 58W
Women's basketball v. FGCU
The Ospreys will face the Eagles in an ASUN match up. UNF is looking for their second ASUN win of the season.
When: 7:00 p.m.
Where: UNF Arena
Friday, Feb. 3
The Vagina Monologues (Run-through)
The Women's Center is putting on the Vagina Monologues  in an effort to raise money and awareness for anti-violence against women and girls.
Saturday, Feb. 3
Women's Basketball vs. Stetson
When: 1:00 p.m.
Where: UNF Arena
Men's Basketball vs Stetson
When: 7:00 p.m.
Where: UNF Arena
—
For more information or news tips, or if you see an error in this story or have any compliments or concerns, contact [email protected].