Bee the Border Collie still hard at work on campus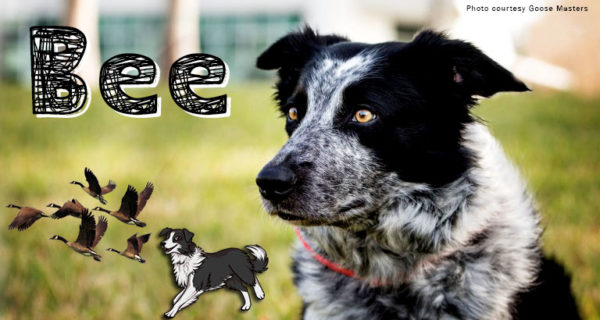 There has been a busy Bee around the UNF campus the past few months. Not a student or the insect, but a dog. Bee the Border Collie was hired last January to help with UNF's Canadian geese problem, but where is Bee?
Students around campus have been asking where the popular—and effective—dog has been lately, as some students say they have not seen her around.
After some investigating, Spinnaker found out that Bee is still on campus working hard. Bee's handler and Goose Master worker, David Bennett, said that Bee is still coming out to the campus two to three times a day.
But is Bee really helping with the Canadian geese problem? Some UNF students don't think so.
When driving around campus and outside The Fountains, geese are still everywhere, said Barbara Whiting, a communications major.  
"[UNF should still use Bee], but maybe add more dogs. How is one dog supposed to do our entire campus?" asked Whiting.
While some students do not think they see improvement, Bennett said that when Bee first came to the campus he counted approximately 150 geese. He said he only counts about 10 to 12 geese a week now.
Bee does not harm the geese in any way when at work. She just pushes them away from campus by chasing them.
Lee Giat, a double-major in astrophysics and multimedia journalism and production, thinks the geese should only be pushed off the roads by Bee, and anywhere else they could get hurt.
"I think the whole point of UNF being on a nature preserve is so to preserve the nature, right? That includes the geese and wild species," said Giat. "If we want to get rid of the geese on the main campus where people walk through, we should create a little area for them."
Every student has their views on whether or not Bee should be around, but with a one-year contract in place, Bee is here to stay for just a little bit longer.
—
For more information or news tips, or if you see an error in this story or have any compliments or concerns, contact [email protected].