Ann McCullen confirmed as Executive Director of UNF Foundation and VP of University Development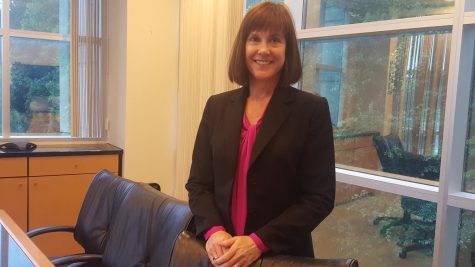 UNF recently hired Ann McCullen as the VP of University Development and Alumni Engagement, and Executive Director of the UNF Foundation after dedicating almost 15 years to the university.
Over the years, she has seen nothing but growth from the university, from the physical campus expanding to the amount of students attending UNF.
"I've grown a lot over the years I've been with UNF," McCullen said.  "It's been great to grow professionally along with a growing university…in this [new] role that I'm in, I wear two hats"
As VP of University Development and Alumni Engagement, McCullen is in charge of the division that deals with alumni relations, and is also in charge of donor engagement and fundraising programs.
"We are letting donors know ways they can help the university grow and be better and help students, we are telling the story of students," McCullen said.
When she switches hats to Executive Director, she is the head of the UNF Foundation, a non-profit organization that receives charity for the university and its students. The money that goes into the UNF Foundation is then allocated by the foundation board in form of scholarships, awards, fellowships and much more.
McCullen started her career with UNF in 2003 as the Director of Development in the College of Arts and Sciences, a position she held for four years. From there she continued to diversify, first as the Assistant VP in the Central Office for six years, and then as the Interim VP for a year. When the VP was eventually found, she shifted into the Associate VP position for three years before transitioning to the role she holds today.
McCullen expects to continue to grow in her new position. She looks forward to working with the three new deans from different colleges to see how they can work together to expand. She plans to increase fundraising initiatives, and will also continue communicating and engaging with alumni.
McCullen also looks forward to "seeing where our future leadership is and what the vision is for the university, and where private support can help UNF grow to that next level."
—
For more information or news tips, or if you see an error in this story or have any compliments or concerns, contact [email protected].