Irma brings increased risk of tornadoes and wind damage for Jacksonville, Shelters open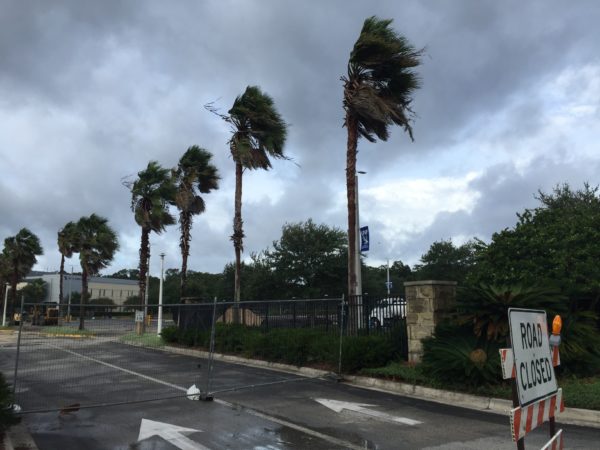 Jacksonville is at an increased risk for tornadoes starting Sunday, according to the National Weather Service. Extensive tree and structural damage is expected throughout Duval County.
The biggest threat to Duval County is wind damage followed by flood damage, with high speed winds and a storm surge of 1-3 feet  threatening the first coast. According to the NWS, Jacksonville should expect 1-3 feet of storm surge on the St. Johns River, especially near Riverside.
Those along the coast can expect wind gusts up to 80 mph and 10 to 15 inches of rain.
Mayor Lenny Curry is encouraging those that are still in an evacuation zone to seek shelter now. Shelters are only at 10% capacity, Curry said in a press conference.
During the storm, Curry is asking residents with non-medical emergencies to call (904) 630-0500. For medical emergencies, call 911.
Sheriff Mike Wiliams said at some point, first responders will likely have to wait for Hurricane Irma to subside before providing help.
Bridges will likely shut down sometime tomorrow when wind speed reaches 40 mph. Williams said when bridges shut down, expect them to be shut down for at least 12 hours.
Curry is asking residents to finalize where they will be staying for the storm by 8 p.m. Saturday. 
UNF is preparing for Irma with all students still on campus seeking shelter at The Fountains.
Preparing for #Irma at UNF. The Fountains residence hall is where all students still on campus will be seeking shelter @UNFspinnaker pic.twitter.com/QuSpd2YMqi

— Tiffany Salameh (@tiffanysalameh) September 9, 2017
Water and beds have arrived at the Fountains in preparation for #Irma. Students still on campus use #SpinnakerStorm to tweet us your photos. pic.twitter.com/BB1olyHqa4

— UNF Spinnaker (@UNFspinnaker) September 9, 2017
Full List of Shelters Around Jacksonville:
Landmark Middle School – 101 Kernan Blvd. N (pets allowed)
Twin Lakes Elementary – 8000 Point Meadows Drive (no pets)
Chimney Lakes Elementary – 9353 Staples Mill Driver (pets allowed)
Mandarin Middle School 5100 Hood Road (pets allowed)
Oceanway Elementary – 1255 Gillespie Ave. (no pets)
Abess Park Elementary – 12371 Abess Blvd. (no pets)
Legends Center – 5130 Soutel Drive (pets allowed)
Andrew Robinson – 101 W. 12th Street (no pets)
Arlington Middle School 8141 Lone Star Road (no pets)
Show us how you are preparing for the storm by using #SpinnakerStorm social media.
__
For more information or news tips, or if you see an error in this story or have any compliments or concerns, contact [email protected].