Presidential Search Committee reviews draft position announcement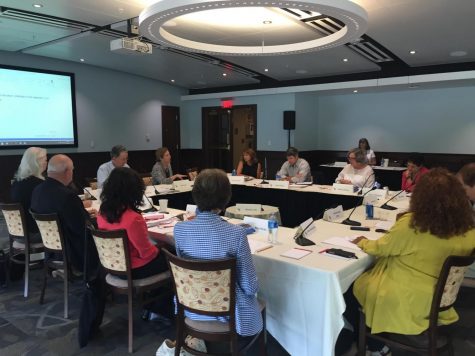 The Presidential Search Committee reviewed the Draft Position Announcement in preparation to find UNF's new President.
According to the current draft, UNF wants a leader who is "innovative and result-oriented" and "possesses integrity and honesty, and exhibits the highest ethical standards."
The candidate should also "possess the academic credentials needed to secure the respect of faculty, staff, and stakeholders UNF serves…[making] the student's experience as top priority."
Some of the other characteristics for the position on the current draft include:
An inspirational, bold leader who is articulate, accessible and approachable, with a passion for higher education.

A community-engaged statesman/woman, building relationships and partnerships in the region and beyond.

An eloquent advocate for the value of higher education for the public good. And a leader who will continue UNF's commitment to the arts and Division I athletics.
UNF Department of Chemistry Chair Dr. Radha Pyati said it is important for the candidate to have an experience with higher education..
"Proven experience with higher education, preferably in the classroom, or in sustained, meaningful service," said Pyati.
Paul McElroy said the candidate must be able to transfer knowledge from being a professor to being a speaker.
"Strong, transparent communication skills, with the ability to promote UNF's hallmarks and unique niches, with the ultimate goal of elevating UNF to national prominence," McElroy said.
Some of the additional qualifications currently state:
The ability to elevate UNF's standing in performance-based funding is key.

The ability to increase and diversify UNF's research portfolio, and to support and expand scholarly and creative excellence in all areas.

Student-focused, with a demonstrated passion for higher education. Providing a quality academic experience, both inside and outside the classroom that leads to the success of all UNF students, is a top priority.

The ability to increase research, internship, international study and global work opportunities for students.

Decisive management skills as demonstrated by a history of showing leadership in making difficult decisions with competing agendas and finite resources.

A deep understanding and appreciation for shared governance through policy procedures and best practices, and a commitment to academic freedom and democratic decision making.

A demonstrated consensus building abilities to work with groups such as the UNF Board of Trustees, the Florida Board of Governors, the FAculty Association, students, unions, business partners, community organizations and the leaders in the Northeast Florida Region.

The desire to embrace new technologies to elevate UNF.
These current characteristics and preferred qualifications are not final and may be revised in the future. The UNF Board of Trustees will review the final draft on Sept. 23 at 9 a.m. at the Herbert University Center.
__
For more information or news tips, or if you see an error in this story or have any compliments or concerns, contact [email protected].