Laugh Out Comedy Show: Side-splitting entertainment
The UNF LGBT Resource Center hosted a side-splitting event known as Laugh Out on Saturday. The comedy show at the Student Union featured BeBe Deluxe and Sampson McCormick, two comics in the LGBT Community.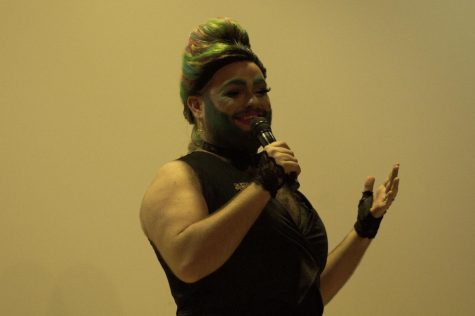 Jacksonville drag queen BeBe Deluxe was awarded the title of Jacksonville's Best Drag Star two years in a row. She has hosted local events such as River City Pride and JASMYN Prom. In addition, she is a UNF alumni. The show began with her routine consisting of hilarious stories about her job at a gay bar, cartoon characters, Disney World, and dates gone wrong (she went over to a guy's house for the first time, only to find his 16 framed photos of Viggo Mortensen). Her sarcastic, yet sassy personality shined through. BeBe's improvisational skills were also spot on when the mic stand fell, to which she laughed and said, "I have that effect on a lot of men."
BeBe then shared that she began making lists in order to practice organization and proceeded to share the top five cartoon characters she'd canoodle with. Number one was the Genie from Aladdin, and honorable mentions included the dentist from Finding Nemo and the Lucky Charms Leprechaun. This topic was an audience favorite as BeBe began the discussion with sincerity, but then turned it around and made it downright hilarious. Another highlight of her segment was definitely her original poem about genitals. The work was well-written and Shakespeare should watch out.Throughout the hour, BeBe expressed her immense pride for being a member of the LGBT community. Her confidence and sense of humor are truly unique. Overall, BeBe kept the audience entertained and wanting more.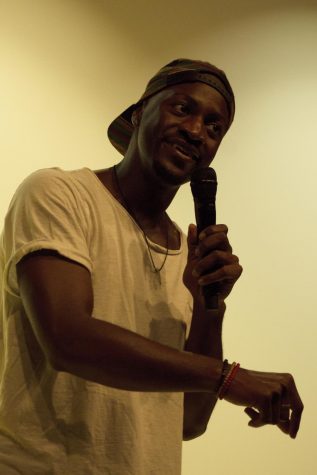 Sampson McCormick is known for being one of the first African American gay comedians.
According to his website, sampsoncomedy.com, he was named "One of the Funniest LGBT Comics" by Buzzfeed and Huffington Post. OUT.com also lists him in "One of the 12 Queer Comics That Everyone Must Know." McCormick's routine was playful and genuine as he discussed relationships, family, religion, and his experiences living in California. He shared his opinion on Whole Foods after friends convinced him to shop there. He brought to light the obscure concept of oatmeal soap. "You can eat breakfast while washing your a**," he laughed. The audience had collective split sides. McCormick then shared a powerful memory of one of his shows in which KKK members attended. Despite their hateful protests, he welcomed them, saying that hate has only taught him to love those around him. McCormick's segment ended with him encouraging the audience to stick together to rise above hate and disorder in our country. His hilarious and sensitive character was too good not to love.
The show was followed by a meet and greet with the two comics. McCormick sold CDs of his riveting Comedy show while hugging and talking to fans. BeBe took a selfie with members of the LGBT Resource Center.
The event was free to everyone and the LGBT Resource Center generously offered complimentary snacks to the audience. You can visit our Campus LGBT Resource Center and learn about their upcoming events in room 1111 of the Student Union.
Laugh Out Comedy Show occurs annually and is co-hosted with UNF Campus Life.
__
For more information or news tips, or if you see an error in this story or have any compliments or concerns, contact [email protected].