Robots of the future and UNF's involvement
In a world where advances in technology pave the way for endless opportunities, fears and questions also arise. Since the invention of robotics, there have been concerns. Will they take our jobs? Will they plot against us?
According to Stephen Stagon, an assistant professor of mechanical engineering at UNF, the most sophisticated robots of our time still can't think for themselves. They aren't completely autonomous, and can not create a master race of robots. "The ability to think like that is just so far out there," he said.
Stagon pointed out that machines are already being integrated into society, but since they are not humanoid, we fail to notice. He mentioned cruise control, which was followed by steering control and active braking. Now we are seeing self driving cars, and although some jobs may be taken over by machines, Stagon says the adoption of machines into the workforce creates new jobs as well.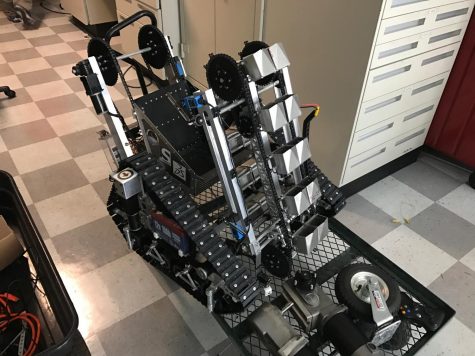 He refers to the movie Willy Wonka, where the main character's father works in a toothpaste factoring screwing the tops onto the toothpaste. He lost the job to a machine, but was rehired to fix and maintain that machine.
"They take on tedious little tasks like that, which a human just doesn't want to sit there all day doing," Stagon said. "That is what the [robots] are really good at."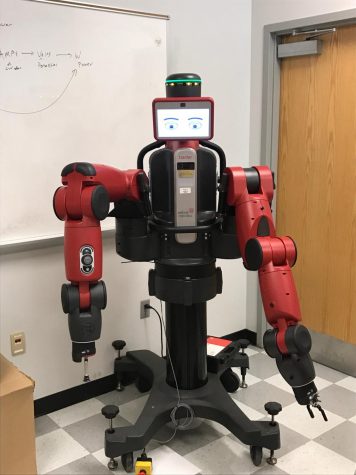 Students at UNF have jumped right into this growing world of technology, with the creation of robots. Stagon said students are currently working on a robot that will be able to tie ribbons on individual bags of brownies. This robot is being made specifically for Mocha Misk'I Brownie Shop, and it will save them money, as well as a lot of time.
One robot is getting a lot of attention named Baxter. Baxter, which Stagon said is worth around $30,000, was donated to the UNF engineering department by Stenner Pump Company.  According to Stagon, the robot couldn't accurately perform tasks to their desired consistency. The issue was the looseness of the arms, which could easily shake, making small tasks difficult.
Baxter's main ability is that he can move his arms, which is easily programed through motion. An individual can drag the arms in the way he or she wants them to move, and it remembers the motion and can perform it repeatedly. One task given to Baxter by the students was the "dab".
Baxter also has proximity sensors, which gives it the ability to tell if someone or something is near it. Additionally, Baxter has a touch screen "face" and cameras on its hands, with a suction cup on the right hand and a grip claw on the left.
Stagon said the engineering department plans to continue their involvement, and anyone can get involved with any level of experience. Students can work with robots like Baxter, and for those who are interested, there are two upcoming competitions, the Institute of Electrical and Electronics Engineers (IEEE) competition and the Robotic Mining Competition (RMC).
The future is unsure, but as robots and technology advances, more possibilities are made. Technology can lead the to a healthier, cleaner planet. It can open new doorways and bring us into a new era of development, invention, and the creation of cures for diseases. Jobs may be lost, as well as gained, and people like the students at UNF can be a part of this movement. They can help make sure advances in technology stay on the right path.
__
For more information or news tips, or if you see an error in this story or have any compliments or concerns, contact [email protected].