'Pitch Perfect 3': It's a "no" from me
One breakthrough success and two sequels later, Pitch Perfect has gone from charmingly in-key to surprisingly flat.
This third installment sees the return of the Barden Bellas a cappella group. Reunited (again), they look to use their skills to earn the approval of the famous DJ Khaled, which, if we're being honest, is all any of us are really trying to do.
The Bellas, now struggling to further their individual lives and careers, enter a competition against other groups vying to be Khaled's opening act. It's a far cry from the spunky original—that testament to sisterhood with a lively story and the perfect mixture of sharp wit and crude, off-color humor.
Now, Pitch Perfect is contrived and full of scattershot humor that, at best, is good for a chuckle, and at worst, will have you wishing for "a bottle 'a whiskey for the way."
Great comedies excel at using humor to further the plot. Here, story elements and comedy feel hopelessly detached from one another, and the comedy isn't good enough to survive on its own. Hana Mae Lee remains a scene-stealer, though, and the movie could have used more of her presence and talent.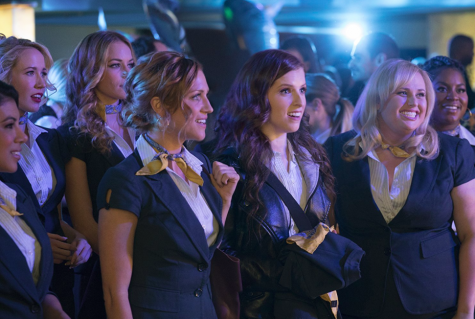 To go with its forced story, writer Kay Cannon jams in a slew of unjustifiable subplots that crescendo into a rocky, spy-movie-style fight scene on a yacht. This franchise seems to have no idea what it is anymore. That's not to say that Pitch Perfect 3 won't get a few laughs while showcasing some fun musical arrangements, but the franchise is narratively lost. It's poorly paced, often feeling like a myriad of half-formed ideas patched together, abruptly jutting from one point to the next. Its soaring harmonies have been sadly reduced to a harsh dissonance beyond the salvation of DJ Khaled.
The film suffers from a few bizarre technical decisions, as well. Not only are the quick mid-shot camera zooms unnecessary and out-of-place, but there's enough of them to give you motion sickness. There's also a questionable amount of transitional scenery montages that may fool you into thinking you're actually watching Floribama Shore.
Dull and bereft of the emotion it so desperately tries to evoke, Pitch Perfect 3 will fail to entertain a casual audience. Loyal fans may hang in there despite some significant disappointment. It's ultimately ironic that this film about moving on stems from a franchise that can't. To any studio executive toying with the idea of Pitch Perfect 4: a-ca-stop it.
2/5 Sails


__
For more information or news tips, or if you see an error in this story or have any compliments or concerns, contact [email protected].