Spring Into The Semester: First Week Events

With the holiday season coming to a close, it's time to warm up to the idea of a new semester, and UNF has just the events to kick it off. Here are a few of the upcoming First Week events, all of which are free to students with a valid Osprey1 Card:
Sunday, Jan. 7
Blue Year's Celebration
When: 6 p.m.
Where: UNF Green and Lazzara Lobby
Come out to the Green and Lazzara Lobby for food trucks, giveaways, a live DJ, and more! Representatives from various campus clubs and departments will be available to answer your questions and help you get more involved on campus.
Tuesday, Jan. 9
Welcome Back Snacks at the Library
When: 11 a.m. – 12 p.m.
Where: Thomas G. Carpenter Library (Building 12, first floor)
One of the best ways to keep energized and motivated throughout the term is to keep your body fueled, and the Thomas G. Carpenter Library has your back. Stop by the front desk on Tuesday for a free snack, and learn how to best take advantage of the library resources.
Wednesday, Jan. 10
Blue and Gray Wednesday Spirit Snap
When: 7 a.m. – 2 p.m.
Where: Osprey Fountain (UNF Arena)
Show your Osprey Pride in order to swoop in on some sweet prize packs! The Office of Campus Life will be holding a Snapchat contest outside of the UNF Arena. All you have to do is take a selfie in your best UNF outfit in front of the Osprey Fountain. Don't forget to use the Blue and Gray Wednesday Snapchat filter, and send it to @UNFCampusLife!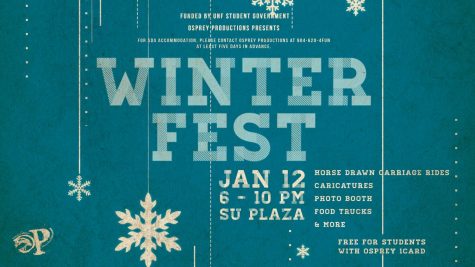 Friday, Jan. 12
Winter Fest
When: 6 p.m. – 10 p.m.
Where: Osprey Plaza (Student Union)
Snow? In Jacksonville? Well, there will be at Winter Fest. Osprey Productions will be hosting this event in the Osprey Plaza. The event will feature caricatures, carriage rides, a photo booth, food trucks, and more.
For the full schedule of First Week events, click here.