'Fifty Shades Freed': more pain than pleasure
I said my safe word over and over again, but nobody turned off the movie. "Fifty Shades" is back for a third round of uncomfortable sex scenes and melodrama to propel its problematic narrative.
Christian (Jamie Dornan) and Anastasia (Dakota Johnson) are now married and continue their luxurious lifestyle. Ana becomes the fiction editor of Christian's publishing company, which he purchased after its former editor Jack (Eric Johnson) began harassing Ana. Christian fired Jack, who hatches his plot for revenge while the Greys continue to navigate the twists and turns of their troublesome relationship.
Director James Foley keeps the acting flat and absurdly unconvincing while various contrivances emerge in a futile attempt to hold the viewer's interest for the film's overstretched two hours.
In that time, "Freed" too often misses the glaring point of what this entire series has been about: sexual fantasy. Sure, the sex still happens. A couple trips are made to the red room, and some interesting things happen to a pint of Ben & Jerry's, but those going to see the latest "Fifty Shades" will also be slapped with a lengthy subplot that deals in…extortion and kidnapping?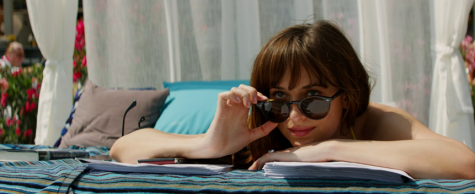 While it's true the movie is adapted from the book, plot development is an element this franchise could have sharpened on both fronts. If you're going to sell steamy sex with rich white guys, sell steamy sex with rich white guys. At least give the audience their junk food on a silver platter. Kidnappings and car chases serve only to distract from the relationship at the trilogy's center—a relationship which, again, offers a harmful take on "love."
A rich and powerful man exploits a woman's fantasies and desires while controlling as much of her life as he possibly can, shutting her out whenever she objects. Of course, they eventually talk things out and come to solutions that prove temporary when he inevitably reverts back to his overbearing tendencies.
In a society that is finally recognizing the toxic cycle in these relationships and its horrible impact, "Fifty Shades" says, "Stay with that guy who doesn't let you talk to other guys. Stay with that guy who keeps you away from your friends. Stay with that guy who cringes at the thought of you having a life beyond him. Stay with that guy who continues to hurt you every time you think he's changed. You're what he needs, and you can fix him. He is trying, after all."
Um, no thanks.
Freed ties up the trilogy in predictably poor fashion, even with uncompromising commitment from Dakota Johnson and a few glances of self-awareness. So long, "Fifty Shades". Don't feel compelled to return.
1.5/5 Sails

—
For more information or news tips, or if you see an error in this story or have any compliments or concerns, contact [email protected].