Know Our Names: The Story of Tommie Smith and John Carlos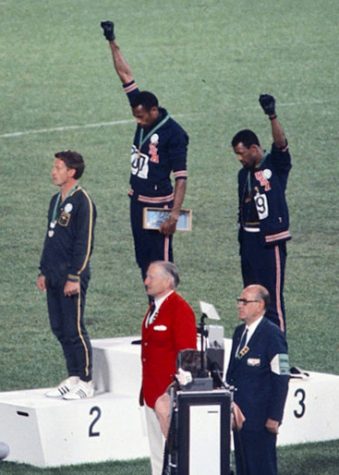 Tommie Smith
Gaining recognition for his multiple records in the 1960s for the San Jose State University track-and-field team, Thomas "Tommie" C. Smith won the 200-meter gold medal at the 1968 Olympics.
Smith was born in Clarksville, Texas on June 6, 1944. Though he contracted a severe pneumonia stream growing up, he recovered and soon moved to California to begin his track and field career. While at SJSU, Smith broke or tied 13 world records including the 220-yard dash, and the straight and turn marks for the 200-meter straight.
Among his teammates was John Carlos, who was soon to be fellow Olympian and civil rights activist. As they breached the Olympics, the companions formed the Olympic Project for Human Rights along with sociology professor Harry Edwards.
After a fallout with the Olympic Committee concerning politics and a black unity salute, Smith and Carlos were told to return their medals and left the Olympic Village.
Smith has since been elected to the National Track and Field Hall of Fame, and has published a autobiography Silent Gesture in regards to his Olympic statement.

John Carlos
Born on June 5, 1945, in Harlem, New York, John Carlos was awarded a full track and field scholarship to East Texas State University after graduating high school. He attended ETSU for a year. He then transferred to  San Jose State University after dominating ETSU's first and only Lone Star Conference Championship concerning track and field.
From there, Carlos was introduced to fellow activist Tommie Smith and went on to win bronze in the 1968 Mexico Olympics in the 200-meter race. Because of Carlos' and Smith's black power salute, they were evicted by the Olympic Committee and revoked of their titles.
Once Carlos returned to SJSU, he continued to pursue athletics and won the 1969 NCAA Track and Field National Championship. He broke the world record for the 100-meter dash. Drafted by the National Football League, working for PUMA, the Olympics and the City of Los Angeles, Carlos now is a track and field coach for Palm Springs High School in California.
1968 Mexico Olympics and the Salute
In 1968, track and field members from San Jose State University Tommie Smith and John Carlos both won Olympic medals in the 200-meter race. Smith won gold in the 200-meter race marking a world with an Olympic-record time of 19.83 seconds while Carlos finished third.
In their victory and on the Olympic podium in front of the world, Smith and Carlos would be remembered for their iconic salute. Donning black socks and gloves, Smith and Carlos stood on the podium, bowing their heads and felicitously raised their fists in a bond of black unity.
Repercussions were quick as the International Olympic Committee decided the games were not to a platform for a political statement. Smith and Carlos were evicted from the Olympic Village, and were instructed to return their medals. Amid controversies, the two Olympians garnered praise for their courageous salute.
Carlos continued to pursue a career in track and field at SJSU, breaking the world record for the 100-meter dash. Smith went on to publish a 2007 autobiography about his stance on civil rights called Silent Gesture.