John Delaney leaves his mark on UNF
As the University of North Florida moves into a new presidency, the president-to-be, David Szymanski, is on everyone's minds. However, John Delaney, who has been UNF's president since 2003, will not be forgotten.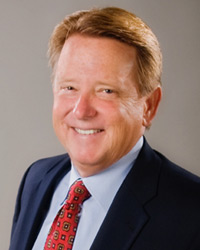 Delaney has dedicated himself to the development and wellbeing of UNF, and even more, the Jacksonville community. He served two terms as mayor of Jacksonville from 1995 to 2003 and since then has overseen UNF and its' growing population of students, which now reaches over 16,000.
Delaney, the longest-serving president at UNF, has placed a high priority on a commitment to students, which Szymanski hopes to carry into the future as well.
During Delaney's presidency, numerous buildings have been built or renovated. Some of these buildings include the residence hall in the Osprey Fountains, the Student Union, the Osprey Commons, the Biological Science building, the Student Wellness Complex and more.
The new buildings being constructed are also environmentally friendly and are Leadership in Energy & Environmental Design certified.
Delaney is also the chief fundraiser at UNF, as he has more than doubled the privately funded endowment.
On March 14, Delaney was honored as an exceptional leader in the community during the Leadership Speakers Bureau, which was hosted by the Taylor Leadership Institute.
During this event, Delaney said being part of something that changes the lives of students in a positive way is one of his accomplishments and is something he has enjoyed throughout his presidency.
Under Delaney's leadership, there has also been an increase in enrollment, graduation rates, and GPA amongst students with and without disabilities, and diversity has been increased by over sixty percent. Since 2003, the number of accredited programs has increased from 37 to 54, available doctoral degrees have increased by 76 percent, and the number of acres owned by UNF has increased from 1,121 to over 2,000.
Additionally, Delaney was nominated in December for the Lifetime Achievement Award by OneJax. The award ceremony occurs on April 12.
Delaney will be retiring as UNF's President on May 31, 2018.
—
For more information or news tips, or if you see an error in this story or have any compliments or concerns, contact [email protected].